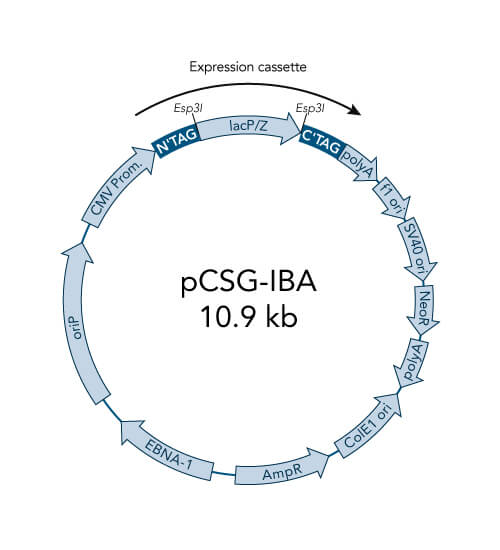 pCSG-IBA142 vector
Mammalian expression vector for secretion of N-terminal His-tag and C-terminal Twin-Strep-tag® fusion proteins
pCSG-IBA142 is a large expression vector with universal features for transient expression of target proteins with an N-terminal His-tag and C-terminal Twin-Strep-tag® as well as for generation of stable mammalian cell lines. The vector carries an ampicillin resistance cassette for selection of transformed E. coli cells and ColE1 origin for a high plasmid copy number. Extrachromosomal replication in mammalian cells could occur either by origin of replication from Epstein-Barr Virus (oriP) or by SV40 ori. For the former the vector provides the EBNA-1 gene and for the latter the cell line has to be latently infected with SV40 or express the SV40 large T antigen (e.g. HEK293T, COS-1, COS-7). Stable cell lines can be selected by the neomycin resistance gene (NeoR). In addition, the human cytomegalovirus (CMV) immediate-early promoter enables a high-level expression in a wide range of mammalian cells. The expressed protein is transferred into the medium due to the BM40 secretory signal peptide. During translocation from the cytosol the signal peptide is removed from the protein by endogenous proteases.
Please note that cloning into
pCSG-IBA
Acceptor Vectors compulsorily requires the restriction enzyme
Esp3I
since no other MCS for the integration of a gene of interest is available. Besides to the
direct cloning
of the gene of interest into pCSG-IBA vectors with Esp3I, another option via a so-called
Entry Vector
is possible.
Specifications

Affinity Tag C'-terminal:

Twin-Strep-tag®

Affinity Tag N'-terminal:

6xHis

Cloning Method:

Direct cloning using restriction enzyme Esp3I

Concentration:

250 ng/µl

Expression Host:

Mammalian cells

Form:

Suspension in TE buffer

Possible Application:

Vector for recombinant expression in mammalian cells

Promoter:

CMV Promoter

Resistance:

Ampicillin

, Neomycin

Sequence:

See Documents

Size:

11040 bp
| | |
| --- | --- |
| Storage: | -20 °C |
| Stability: | 12 months after shipping |
| Shipping: | Room temperature |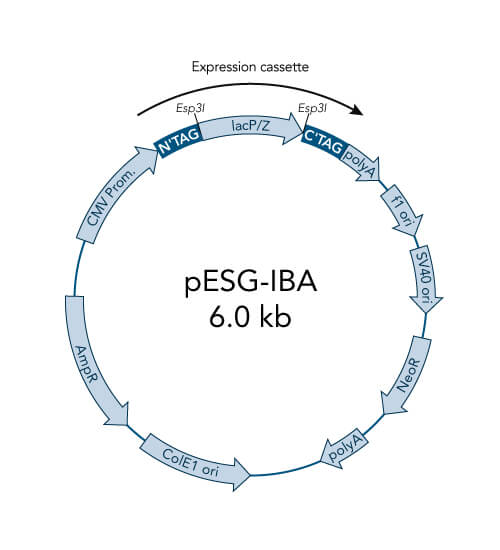 pESG-IBA142 vector
Mammalian expression vector for secretion of N-terminal His-tag and C-terminal Twin-Strep-tag® fusion proteins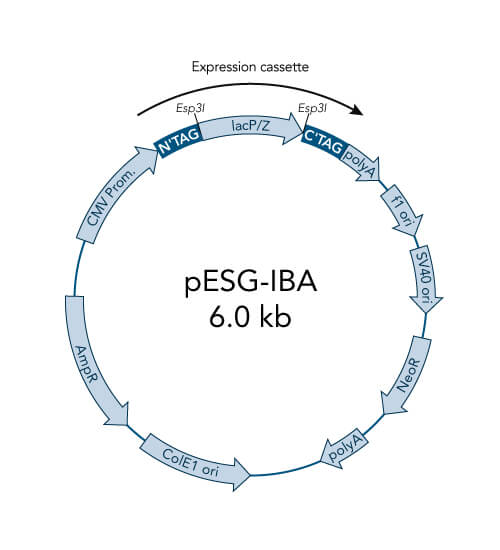 pESG-IBA144 vector
Mammalian expression vector for secretion of N-terminal Twin-Strep-tag® and C-terminal His-tag fusion proteins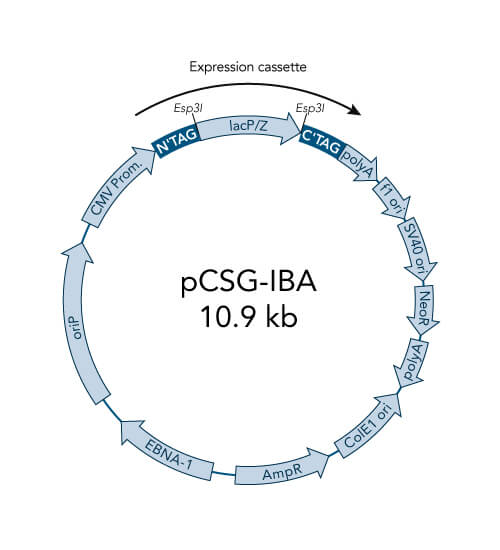 pCSG-IBA144 vector
Mammalian expression vector for secretion of N-terminal Twin-Strep-tag® and C-terminal His-tag fusion proteins