Protein purification product formats
Protein purification via affinity chromatography is based on the binding affinities between different molecules. During purification, target protein tagged with a short peptide binds to the ligand, which is usually coupled to resin, while unwanted proteins without tag do not bind and can be washed away.

The resin can consist of agarose or magnetic beads. Both come in suspension form. Alternatively, agarose beads can also be prepacked in FPLC, gravity or spin columns. Which format works best for your application depends either on the yield you require or on the initial sample volume.
Choosing the product format based on...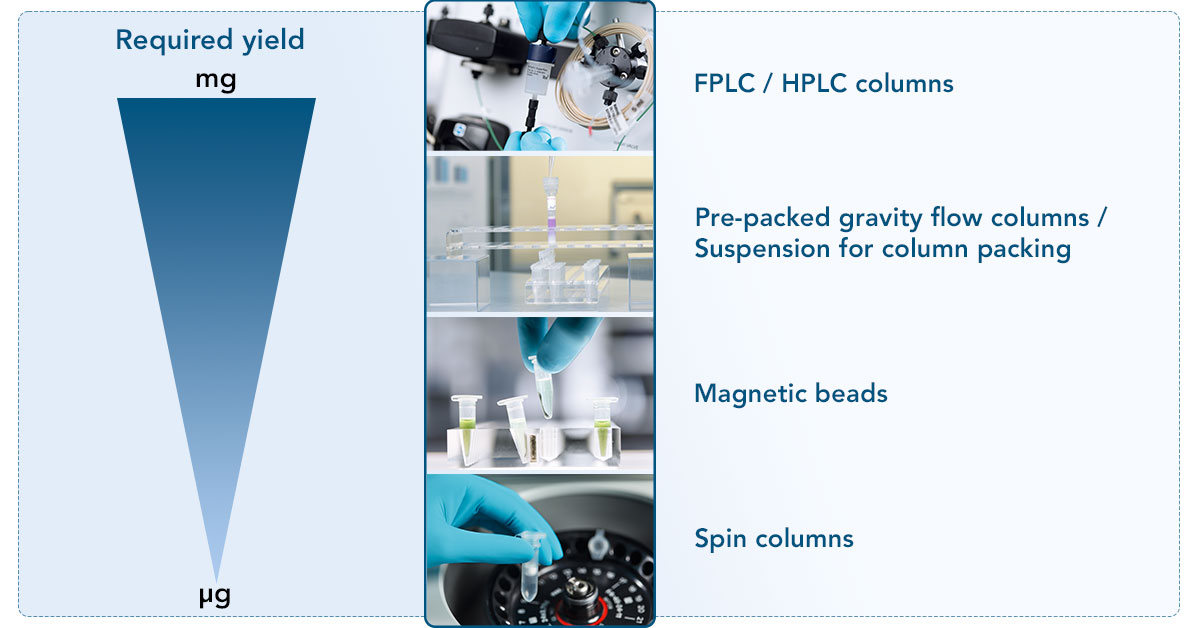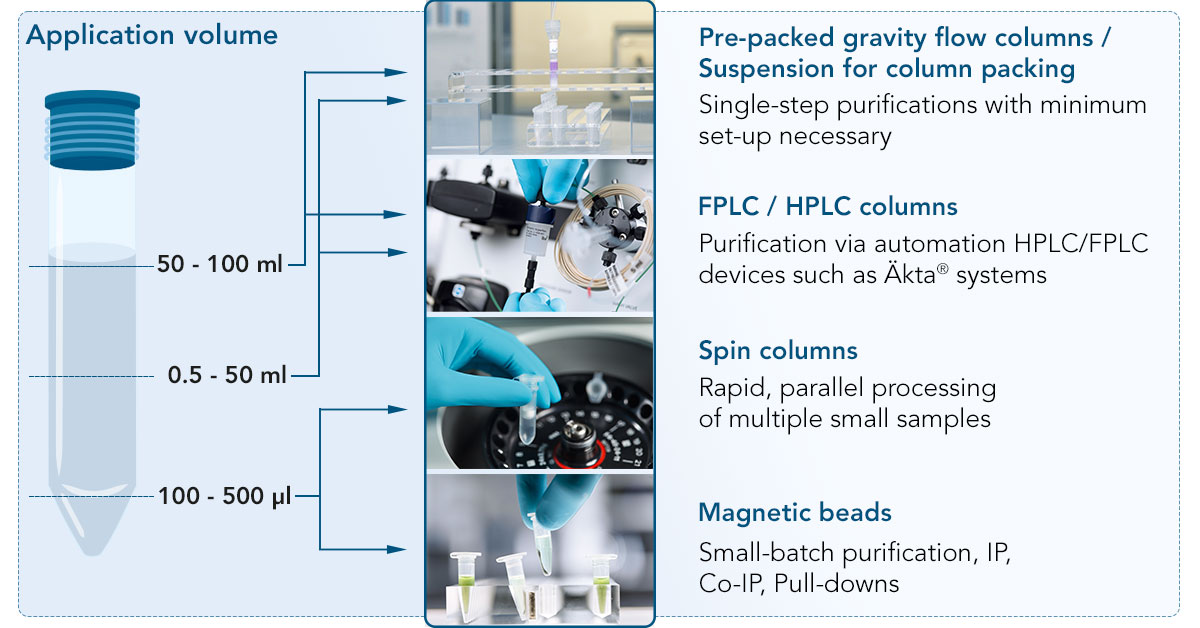 Product formats in details
FPLC/HPLC columns
Large sample volumes can be purified using columns in automated FPLC/HPLC devices such as Äkta®. FPLC columns come with different resin volumes and can be connected in series to increase the binding capacity. They attach to the device via the standard 10-32 connectors.
Broad pH compatibility
Excellent pressure stability
Outstanding target purity
1 & 5 ml column bed volume available
Product advantages:
Quick application of large sample volumes
Fully automated protein purification
Time saving: No waiting between the purification steps, since the device applies the correct volumes of buffer and sample autonomously.
Recording of the complete affinity chromatography protocol, which provides information about the purification quality
Reproducible purification results due to the program settings that are set up beforehand and not dependent on the user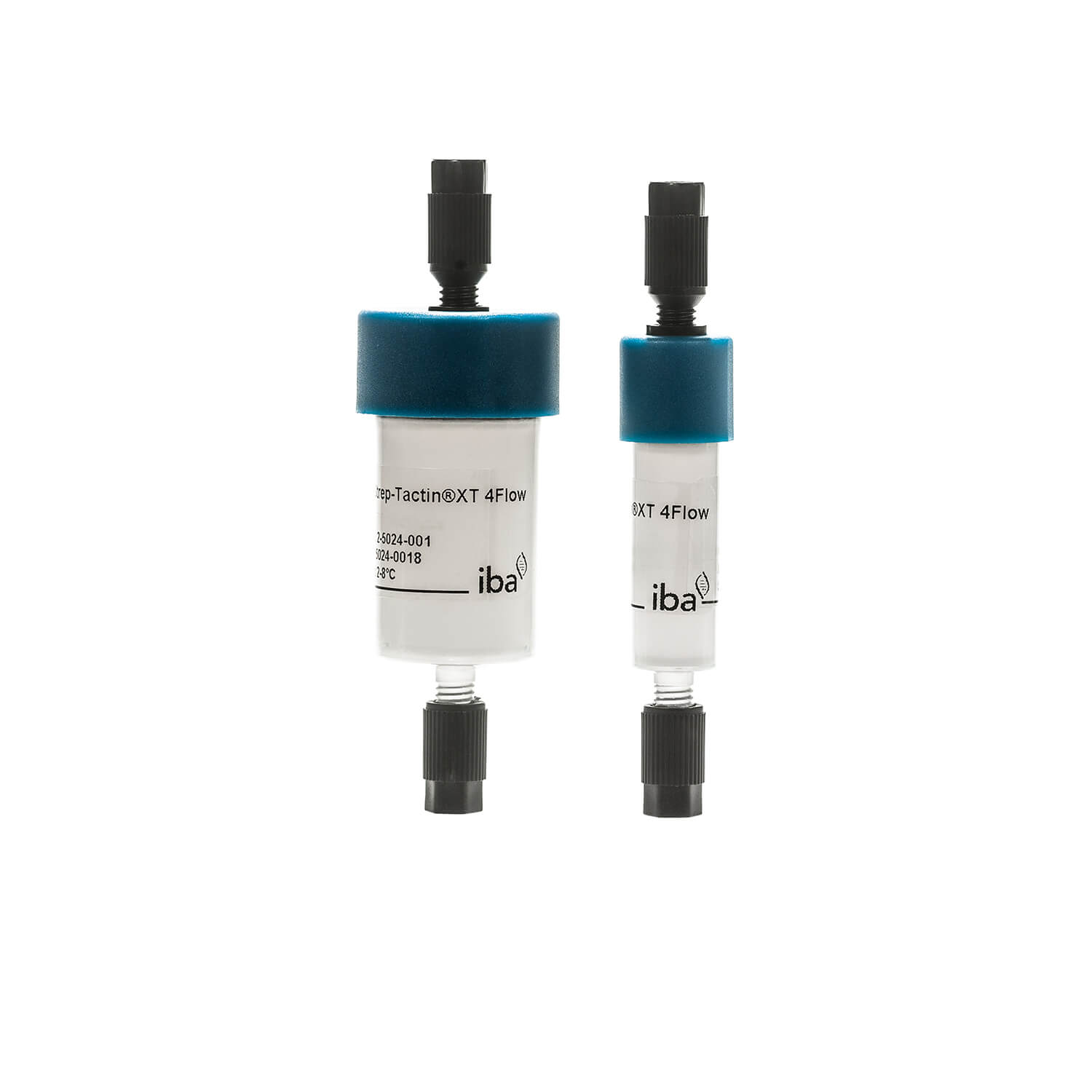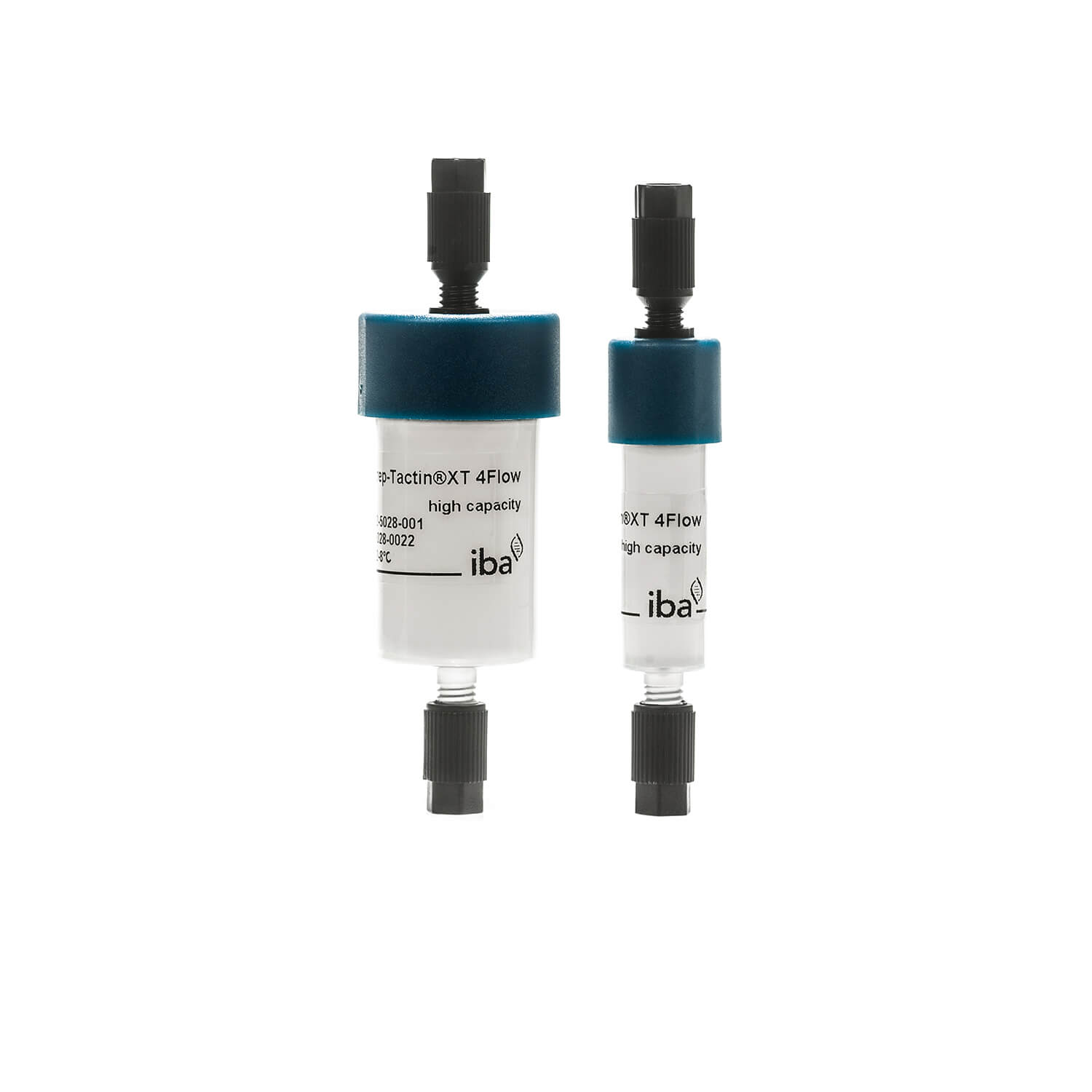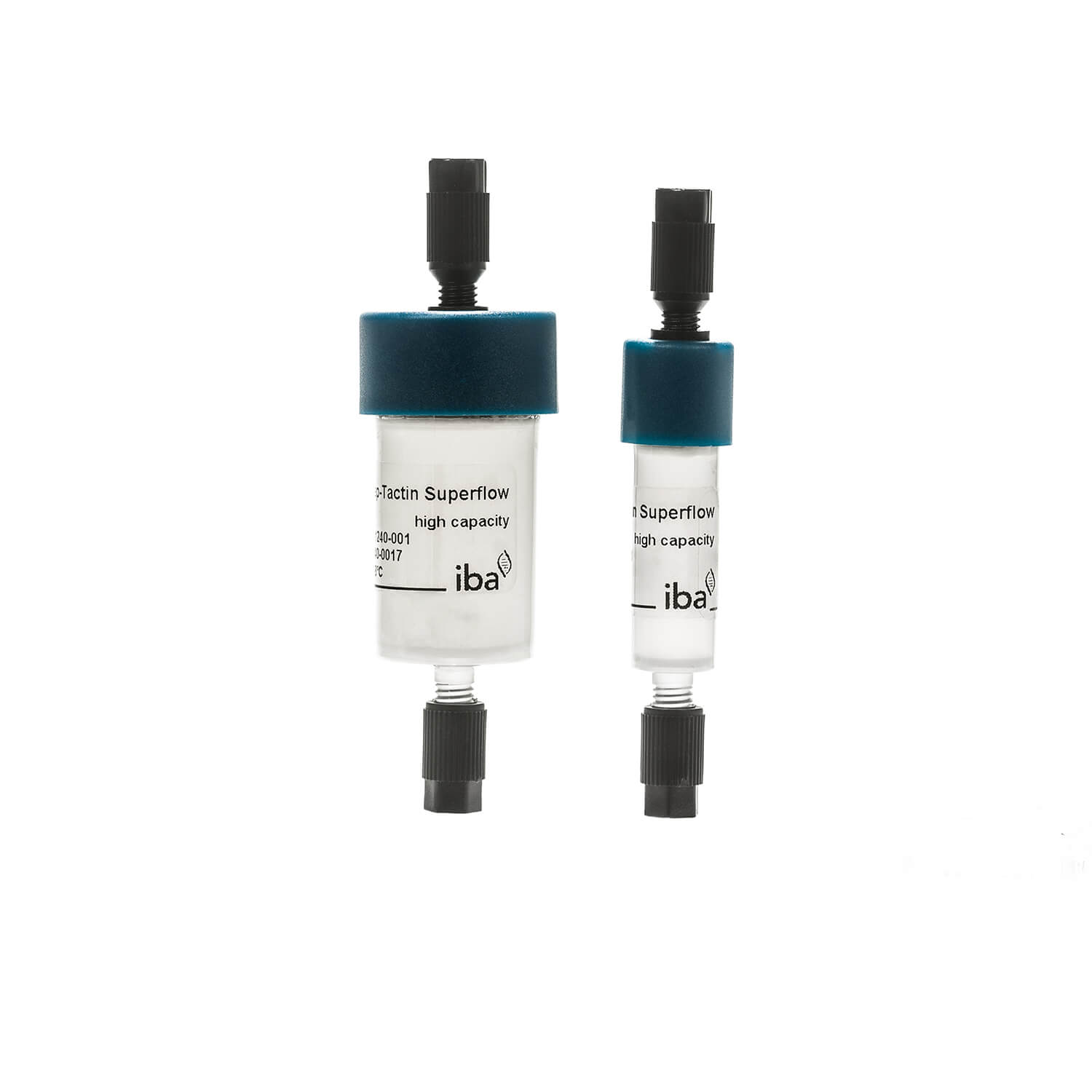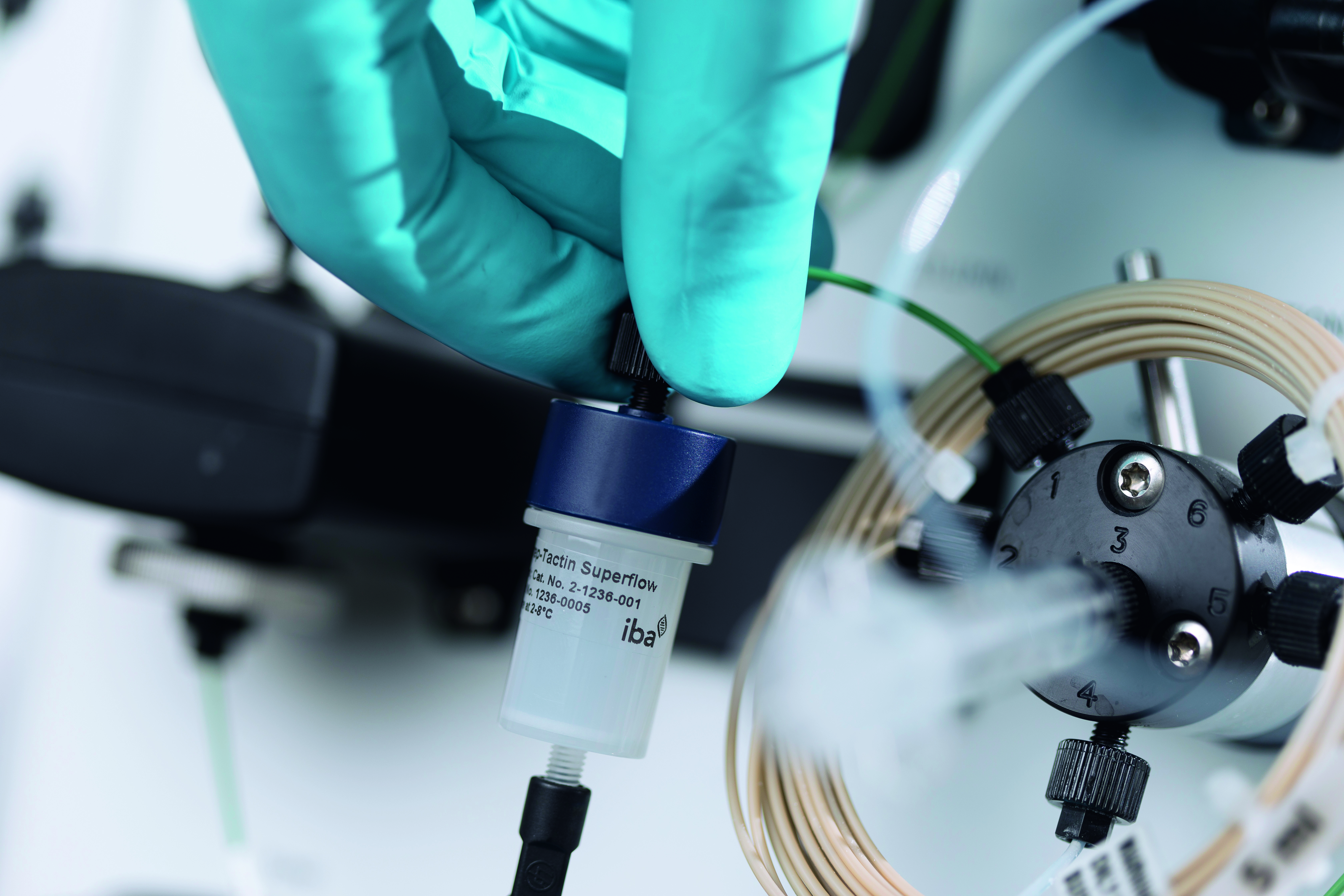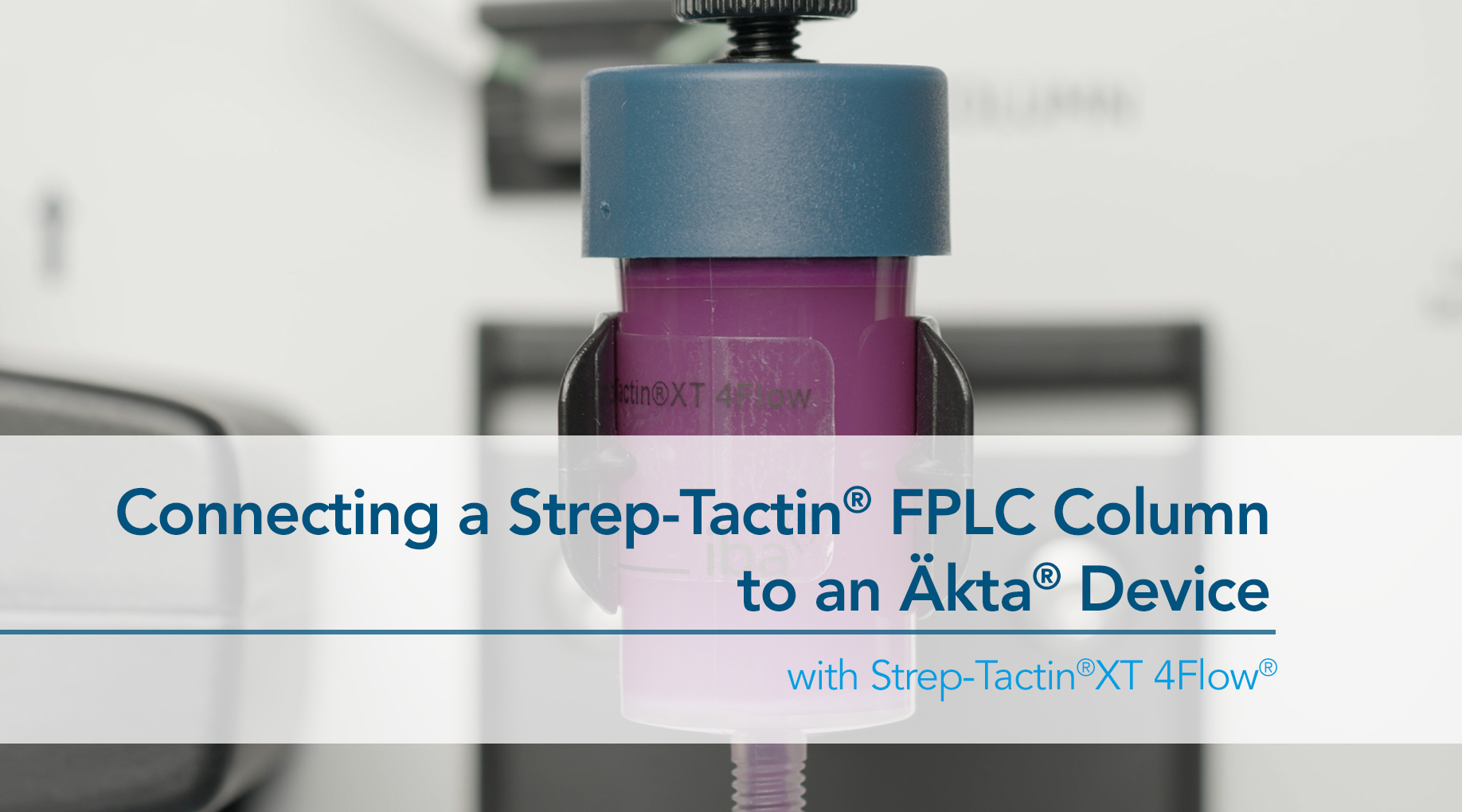 Gravity flow columns
Gravity flow columns are ideal for protein purifications with a medium yield. The resin suspensions allow you to pack your own columns according to your need, but you can also choose from other formats, like pre-packed columns.
Optimized for column affinity chromatography
Variety of different product sizes and matrices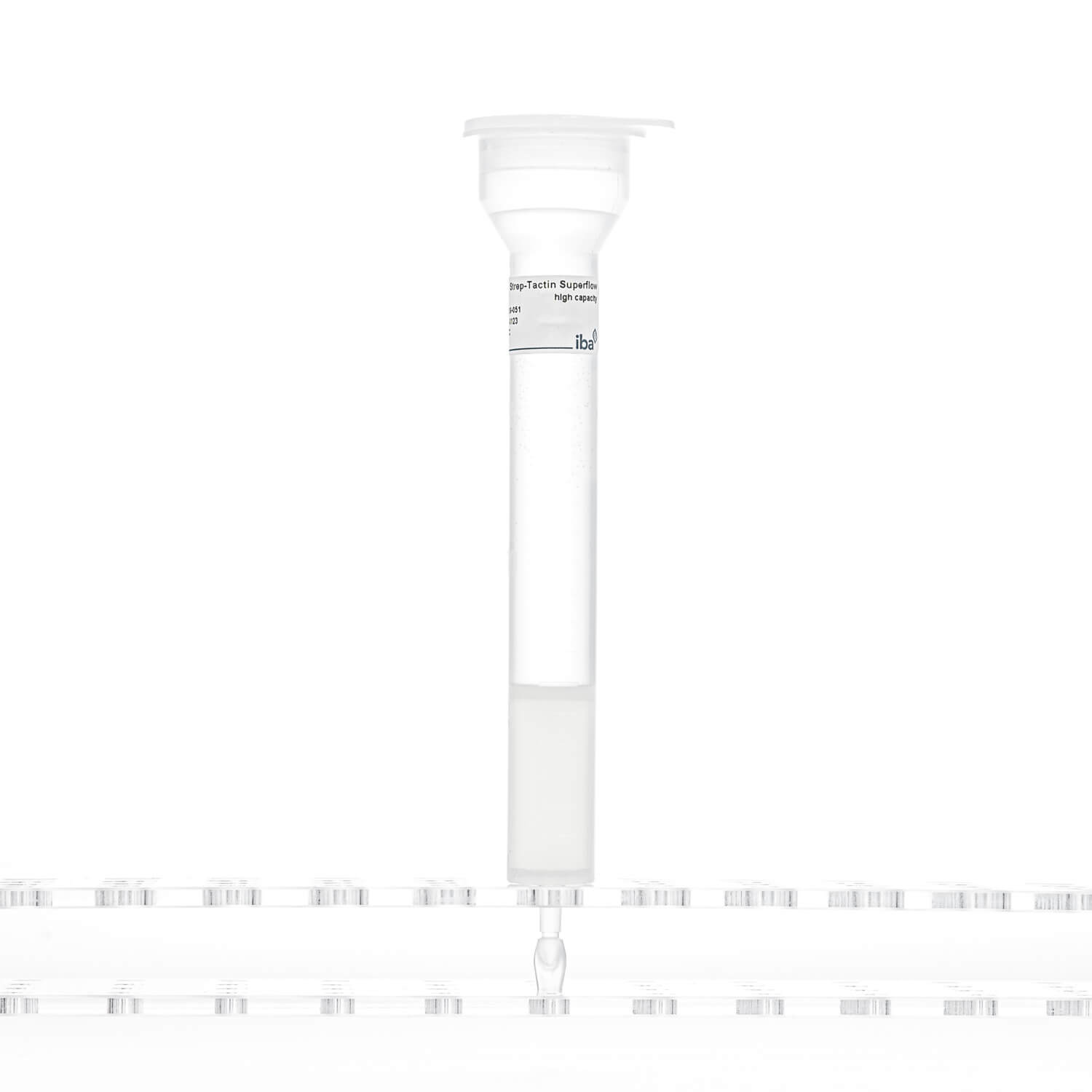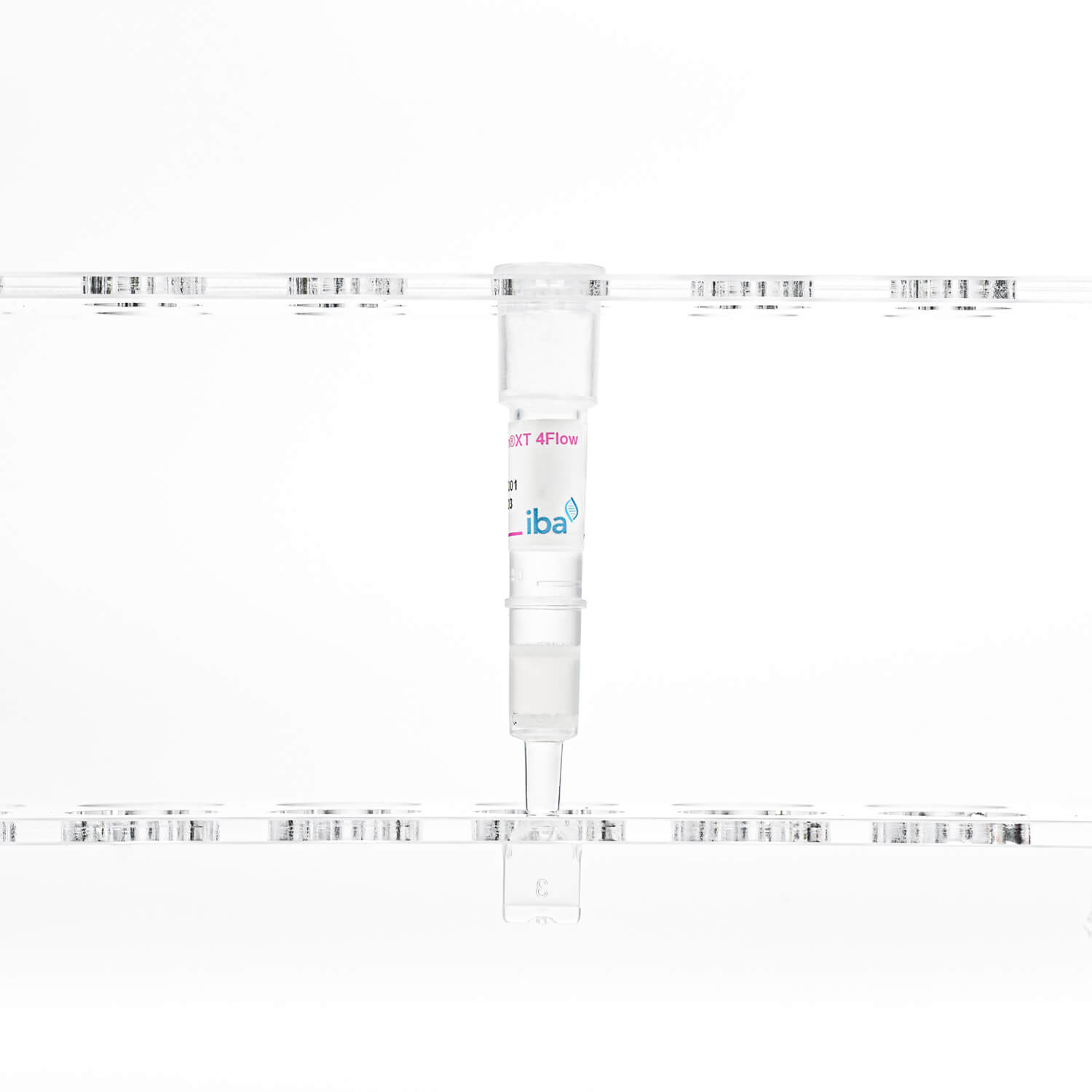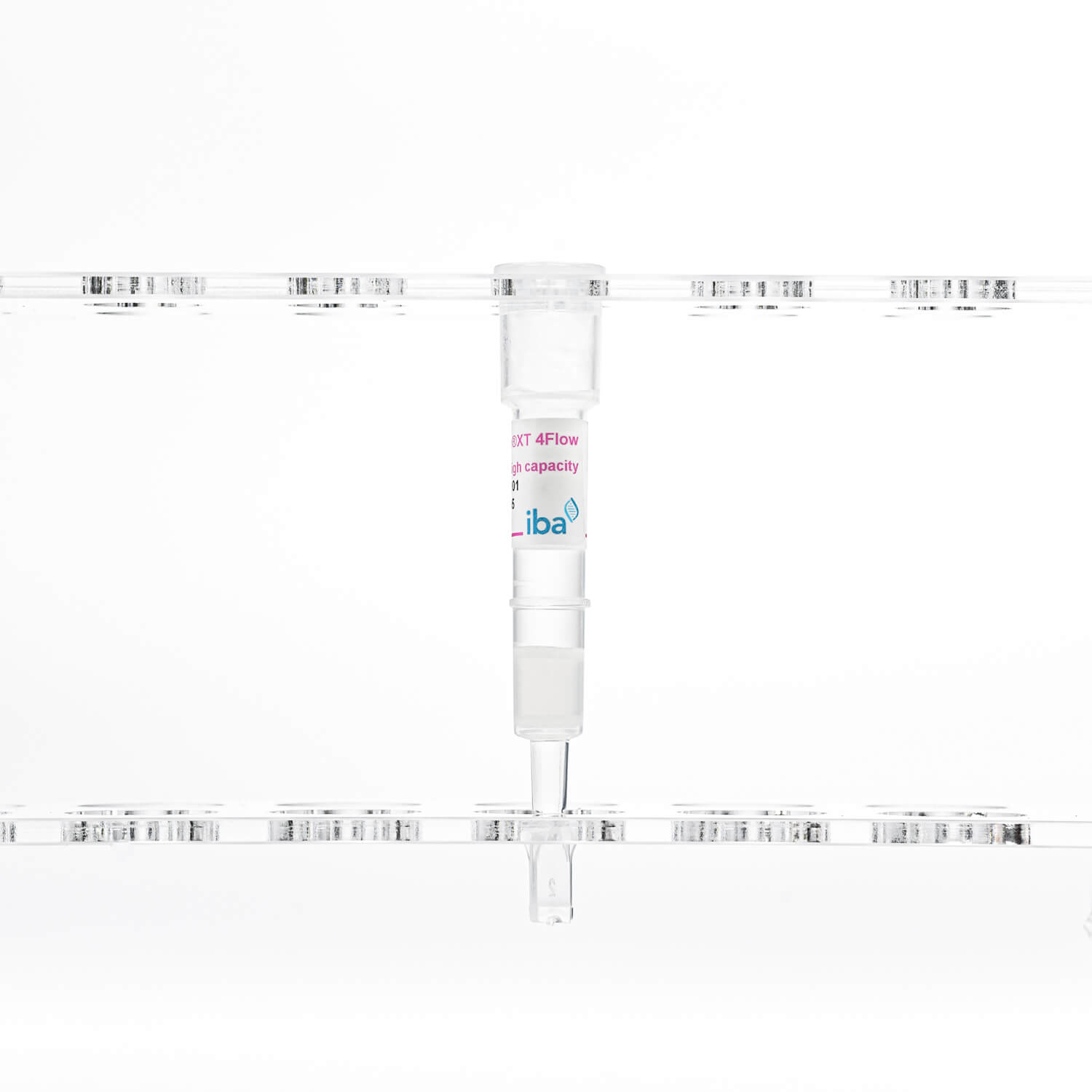 Magnetic beads
Magnetic beads can be used for batch purifications in tubes or 96-well plates to purify proteins in pull-downs, IPs and Co-IPs. The beads can be easily fixed to the reaction tube with a magnet, so you can skip centrifugation without having to worry about losing your sample during pipetting steps.
No centrifugation
Separation via magentic separator
2 ml and 10 ml volume available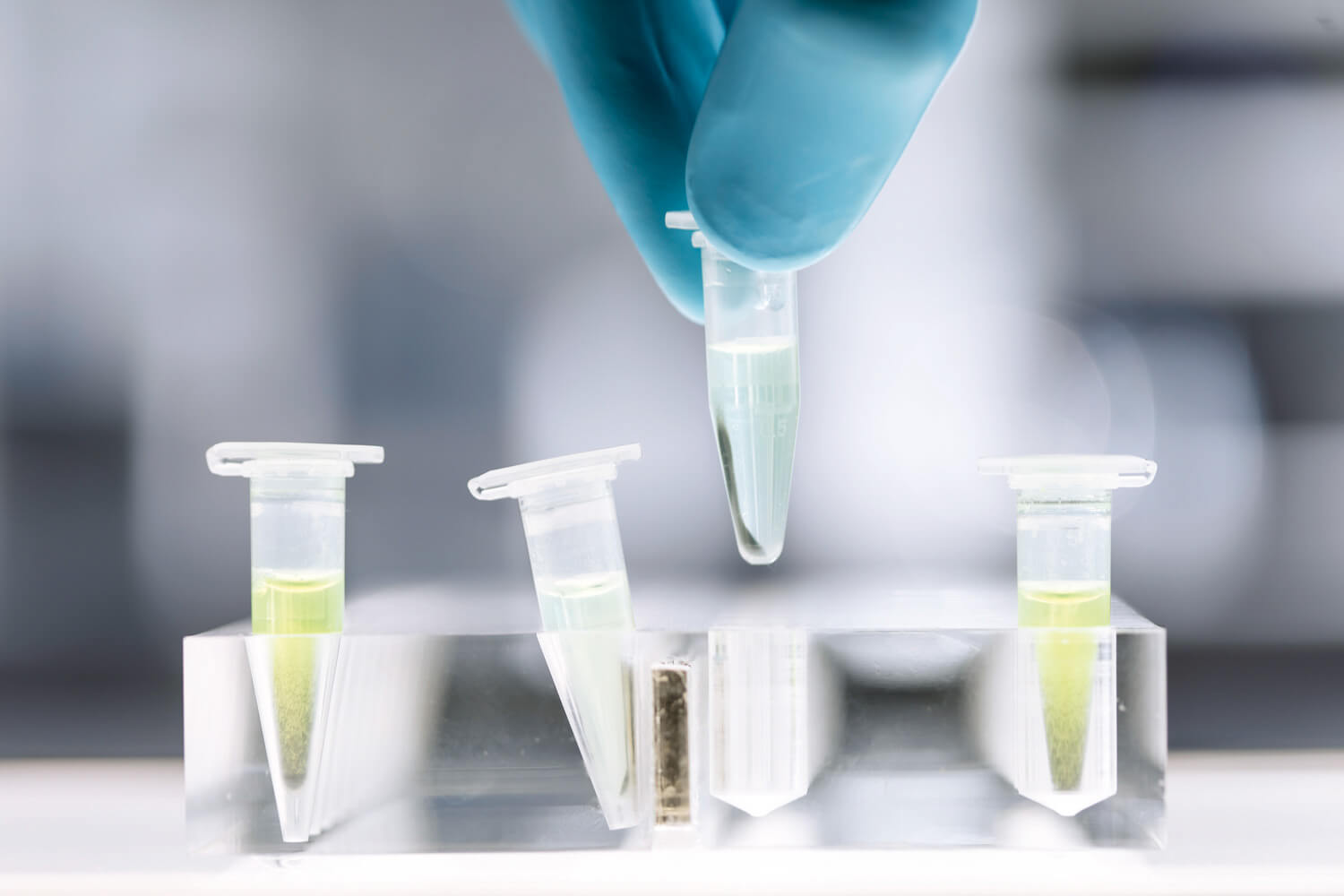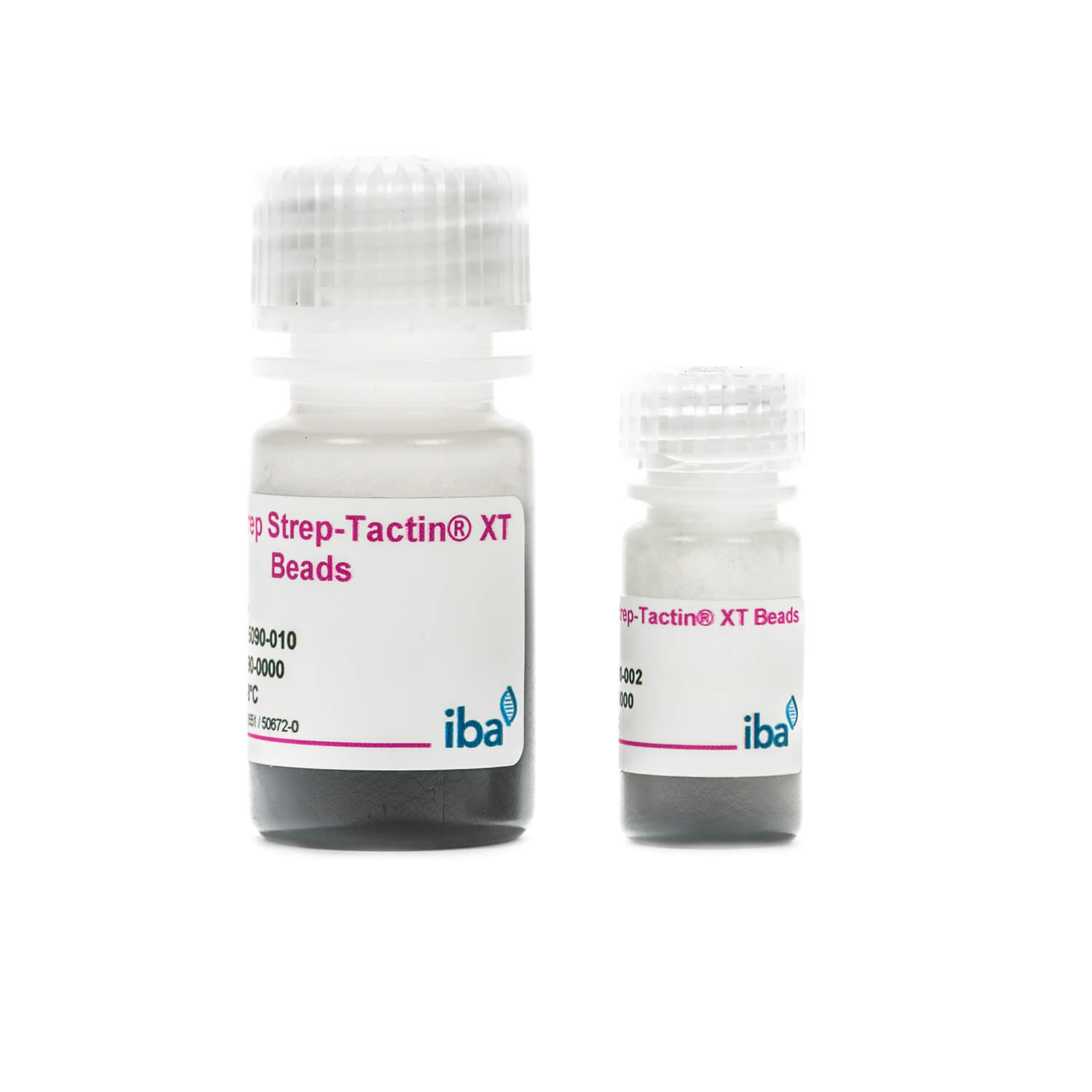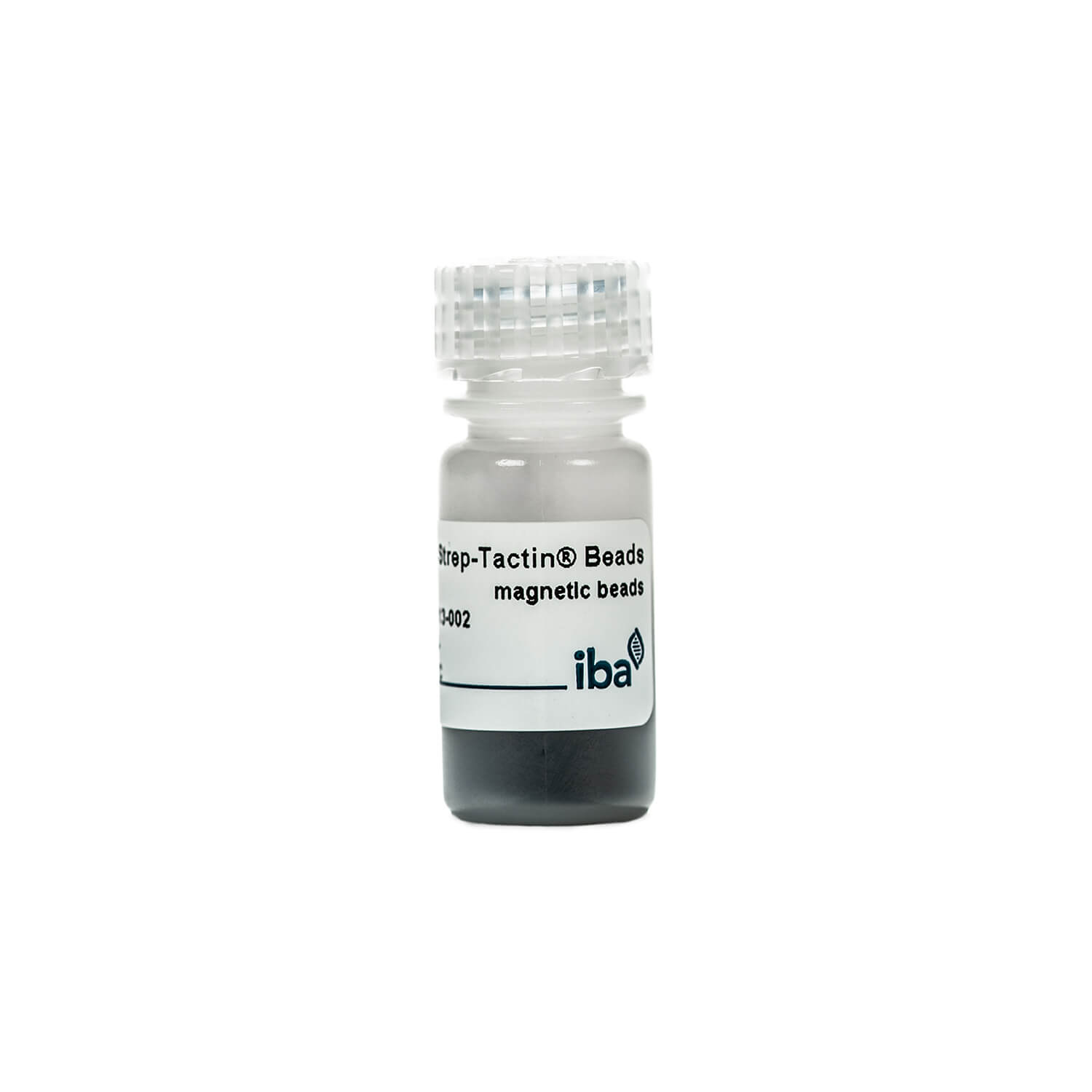 Spin columns
If you need to process multiple small samples in parallel, you can use spin columns with the resin of your choice. They allow you to do a batch purification of a different protein in every tube with a simple setup.
Compatible with conventional 1.5 ml or 2.0 ml reaction tubes
Buy a ready-to-use kit or fill empty columns with resin of your choice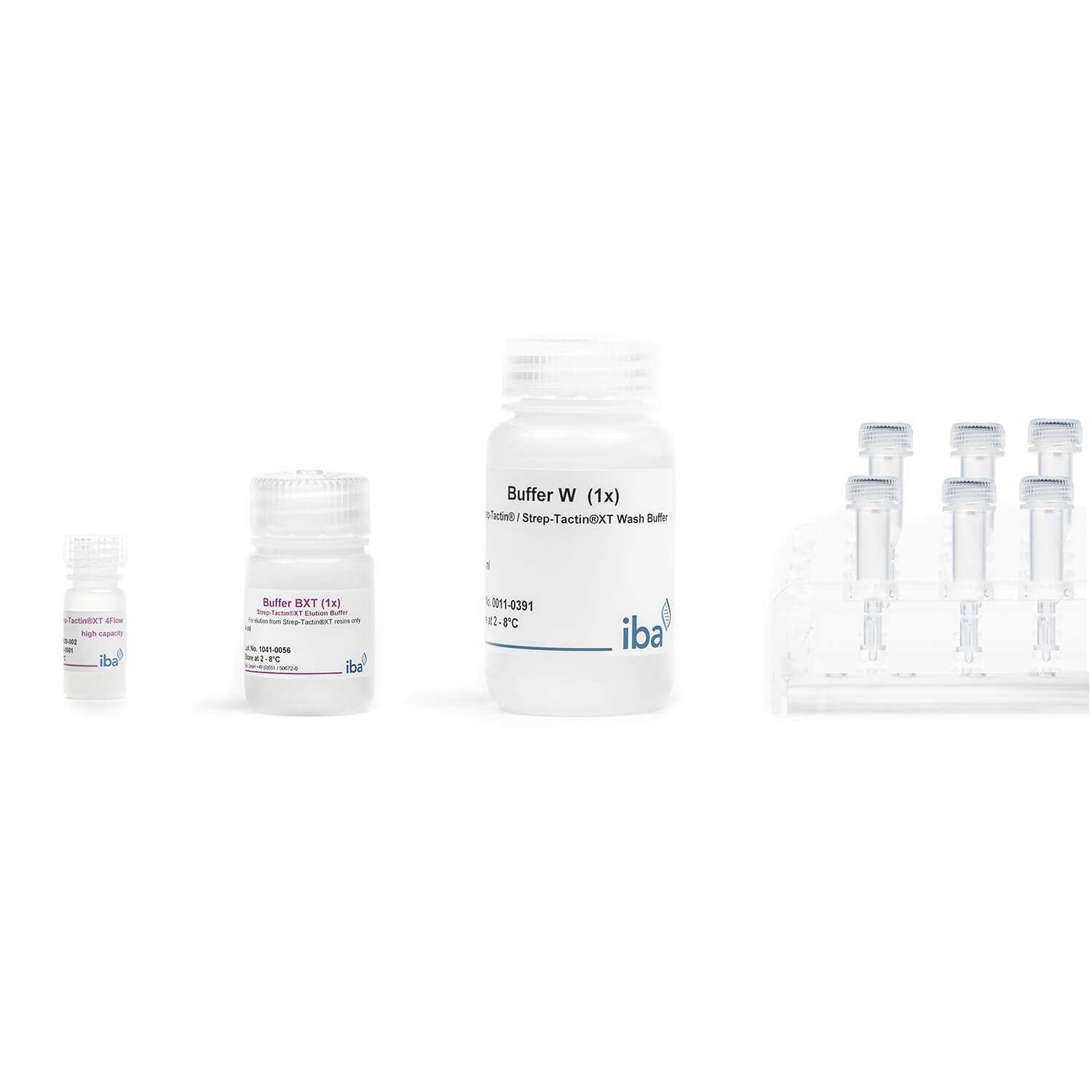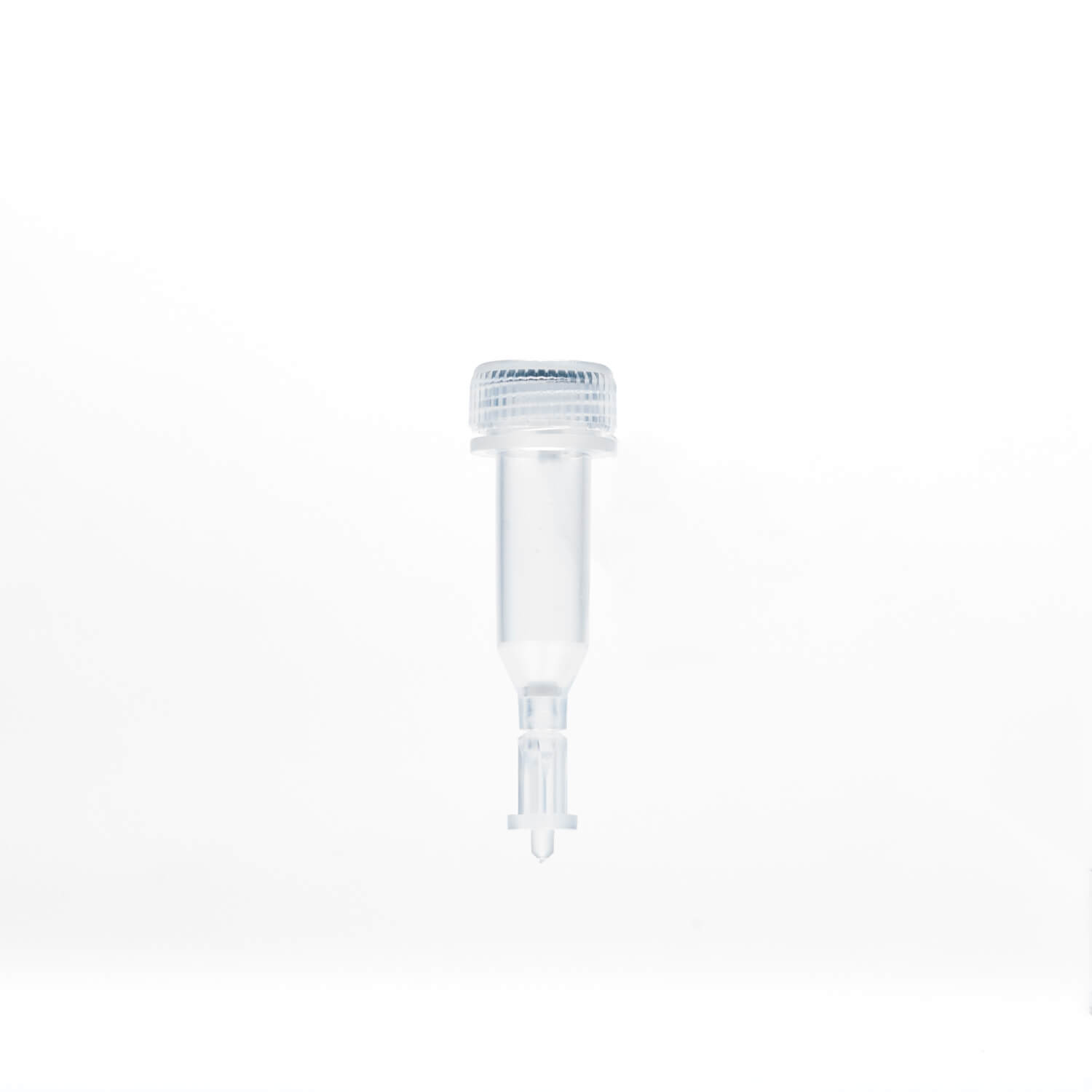 Empty Spin Columns
For rapid protein purification with Strep-Tactin®XT 4Flow® high capacity
Resin reuse
Strep-Tactin® and Strep-Tactin®XT resins for protein purification can be regenerated and reused 3 to 5 times without loss in performance. The proper regeneration of the column and resin activation can easily be checked with HABA. The yellow HABA solution turns red (Strep-Tactin®) or orange (Strep-Tactin®XT) upon binding to the engineered biotin binding pockets of Strep-Tactin® and Strep-Tactin®XT clearly indicating that the resin is fully regenerated. Afterwards, HABA can be removed by washing with 1x Buffer W. Once the red color has disappeared the column can be reused. If the biotin binding pocket is blocked or damaged no color shift occurs and the resin cannot be reused.