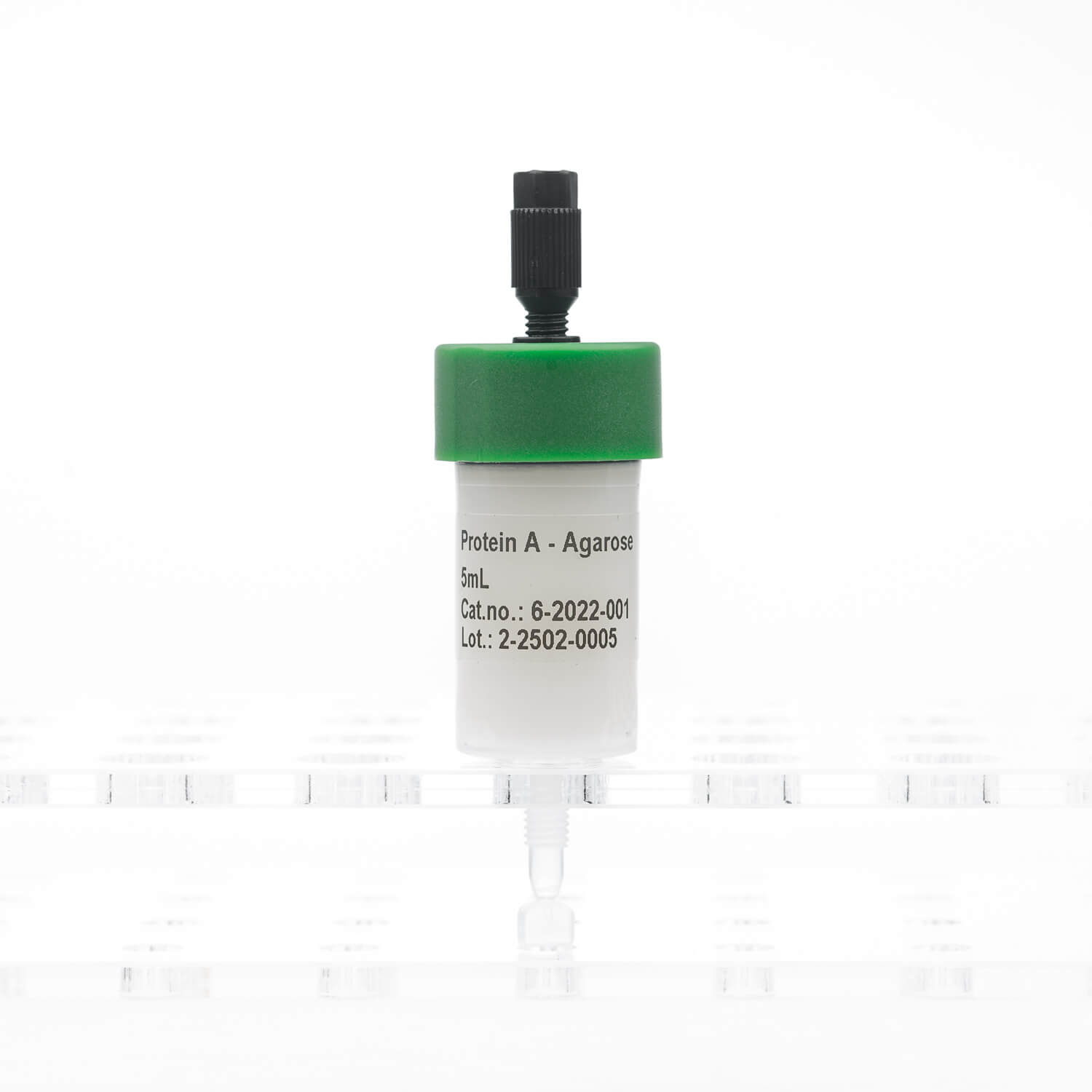 Protein A Agarose cartridge
HPLC/FPLC cartridge to purify monoclonal and polyclonal antibodies
This product will be discontinued by 31.12.2022.
Protein A is commonly used for the
affinity purification
of monoclonal and polyclonal IgG class antibodies using affinity chromatography. It binds to immunoglobulins through interaction with the IgG heavy chain within the Fc region and purifies all antibodies of the target class without regard to antigen specificity. Antibodies from serum (polyclonal antibodies), ascites, or cell culture supernatant of hybridoma cell lines (monoclonal antibodies) can thus be easily isolated.
The cartridges are primarily designed for use with chromatography workstations with 10-32 connections (please note that you do not need adapters for HPLC and Äkta). They can, however, also be operated with other workstations, with syringes, or with peristaltic pumps by use of common adapters for cartridges. Since Protein A Agarose cartridges are pressure-resistant for up to 3 bar, they can be used with a flow restrictor. Cartridges can be connected in series to enlarge capacity.
The Protein A Agarose cartridge has a high dynamic binding capacity combined with an excellent NaOH stability.
| | |
| --- | --- |
| Bead Size: | 45 µm |
| Dynamic Protein Binding Capacity: | ≥70 mg/ml resin |
| Form: | Pre-packed cartridge |
| Possible Application: | Purification of monoclonal and polyclonal antibodies |
| Specificity: | Fc-region of IgG antibodies |
| Support: | Rigid, highly crosslinked agarose |
| | |
| --- | --- |
| Storage: | 2-8 °C |
| Stability: | 6 months after shipping |
| Shipping: | Room temperature |