Research tools for Covid-19
Research on SARS-CoV-2 is currently a key concern of life sciences to prevent further infections and to develop a vaccine. The following studies as well as the antigen specific FluoroSpot method demonstrate the great utility of the Strep-tag® technology in this area. It can be used for the isolation of cells and exosomes or for affinity purification of proteins, but moreover Strep-Tactin®XT proves to be particularly good for the immobilization and detection of viral proteins due to its high affinity for the Twin-Strep-tag®.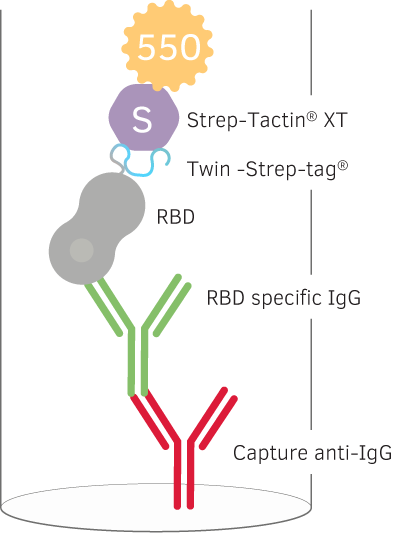 Detection of Memory B cells specific for SARS-CoV-2 with reversed antigen specific IgG FluoroSpot
The Swedish biotech company Mabtech showed that reversed antigen specific FluoroSpot is a valid method for testing human B cell memory response, which could be an interesting complement for studying long term immunity of COVID-19.
In their study they immobilized their anti-human IgG (MT91/145) capture antibodies in a FluoroSpot plate. For detection of IgGs specific to a receptor binding protein (RBD) of the SARS-CoV-2 Spike protein, the RBD was fused with a C-terminal Twin-Strep-tag® that subsequently was detected with a Strep-Tactin® XT conjugated to a 550-fluorophore. They decided to recombinantly express the Twin-Strep-tag® together with the RBD protein instead of traditional biotinylation, because biotinylation of lysines might interfere with immunogenic epitopes. More information about the method can be found here.
More relevant papers for Covid-19 research