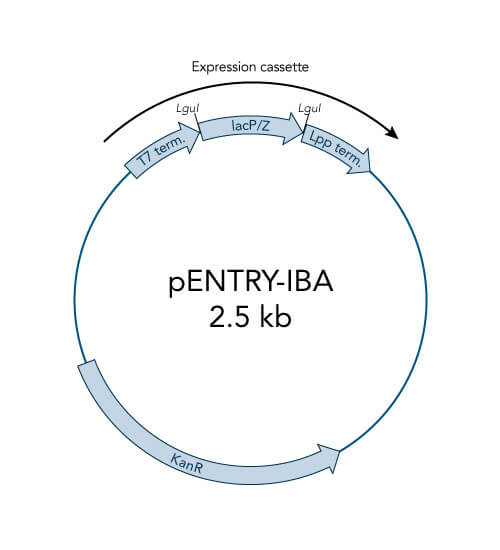 pENTRY-IBA51 vector
Entry vector for generation of StarGate donor vectors
StarGate®
Entry Vector
is designed to insert the PCR product of a certain gene of interest (GOI) to generate a Donor Vector.
StarGate cloning
via the pENTRY-IBA vector provides a tool for the systematic and rapid screen of the best working expression conditions for a certain GOI, where nothing is known from literature. After initial pENTRY cloning, the GOI in the resulting Donor Vector can be easily transferred by a simple one-tube reaction into a multitude of expression vectors (
Acceptor Vectors
) providing different features.
| | |
| --- | --- |
| Cloning Method: | Direct cloning using restriction enzyme LguI |
| Concentration: | 250 ng/µl |
| Expression Host: | E. coli |
| Form: | Suspension in TE buffer |
| Promoter: | tet Promoter |
| Resistance: | Kanamycin |
| Sequence: | See Documents |
| Size: | 2556 bp |
| | |
| --- | --- |
| Storage: | -20 °C |
| Stability: | 12 months after shipping |
| Shipping: | Room temperature |