Webinars
Our recorded webinars are available on-demand and aim to provide more information about our technology as well as useful tips when working with our products.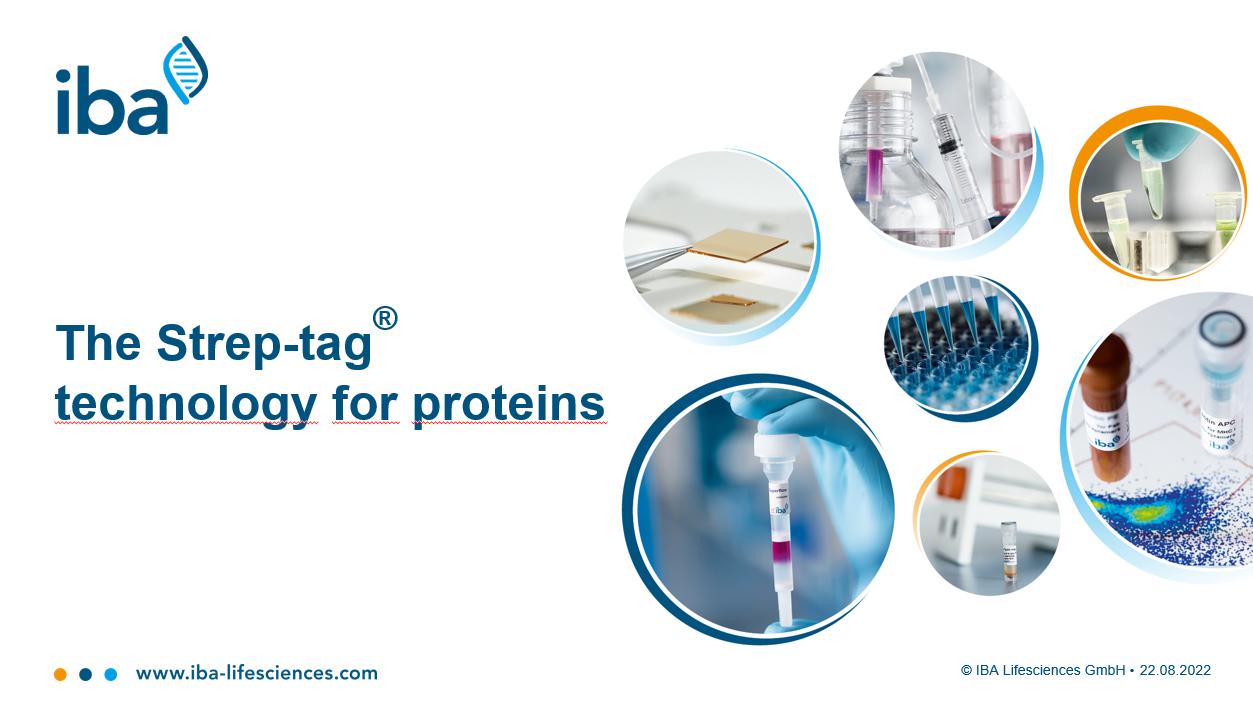 The Strep-tag® Technology for Proteins
This webinar will introduce the Strep-tag® system as a universal platform for the whole protein production and analysis workflow. We explain, how its' flexible tag-ligand combinations allow high-purity and high-yield protein purification of all prtoein classes, including challenging proteins, and various downstream applications, such as detection, pull-down assays, and optical biosensor applications.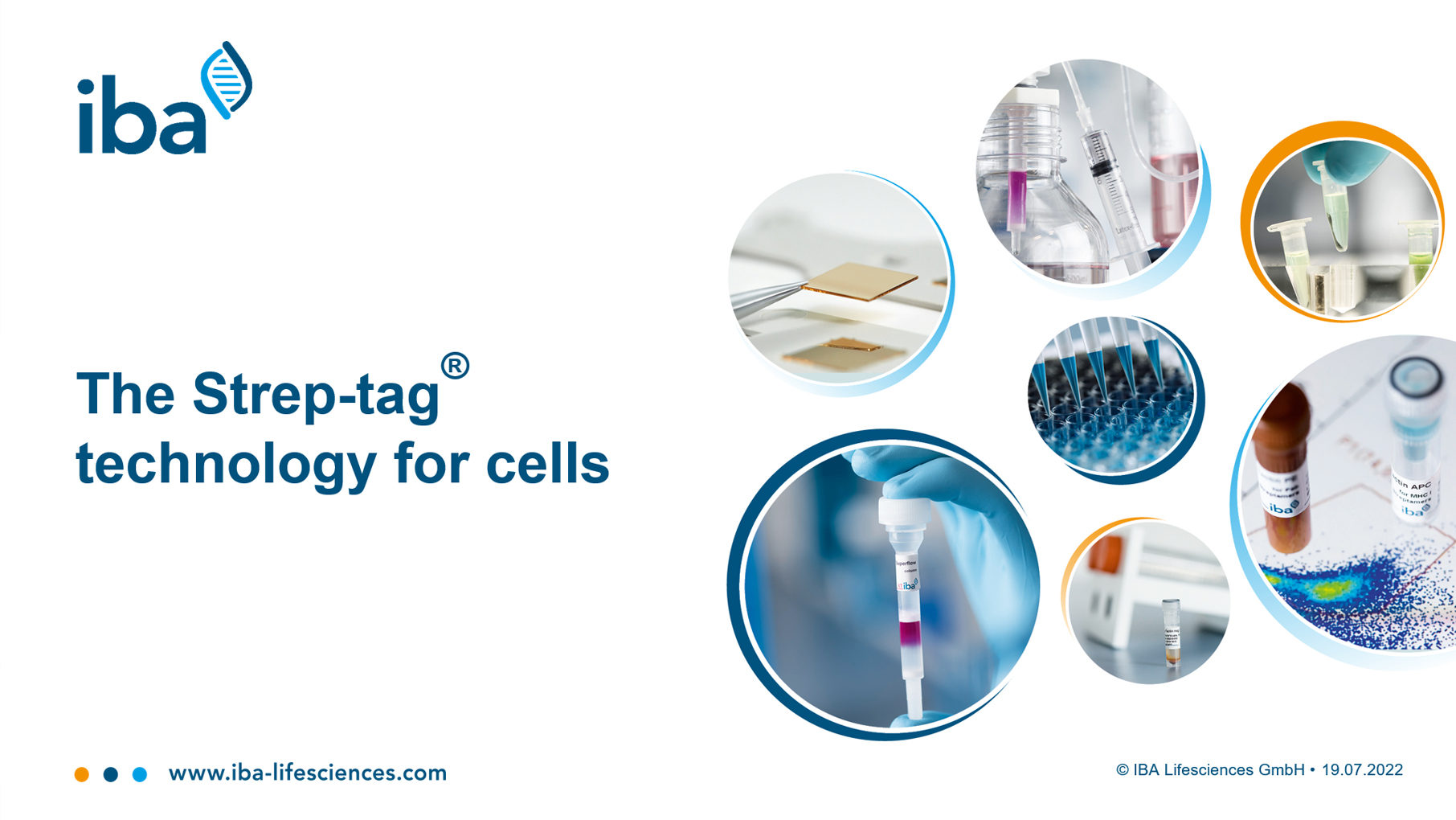 The Strep-tag® Technology for Cells
This webinar introduces the Strep-tag® technology for cell isolation as a flexible platform, which allows three different cell isolation methods based on different research requirements.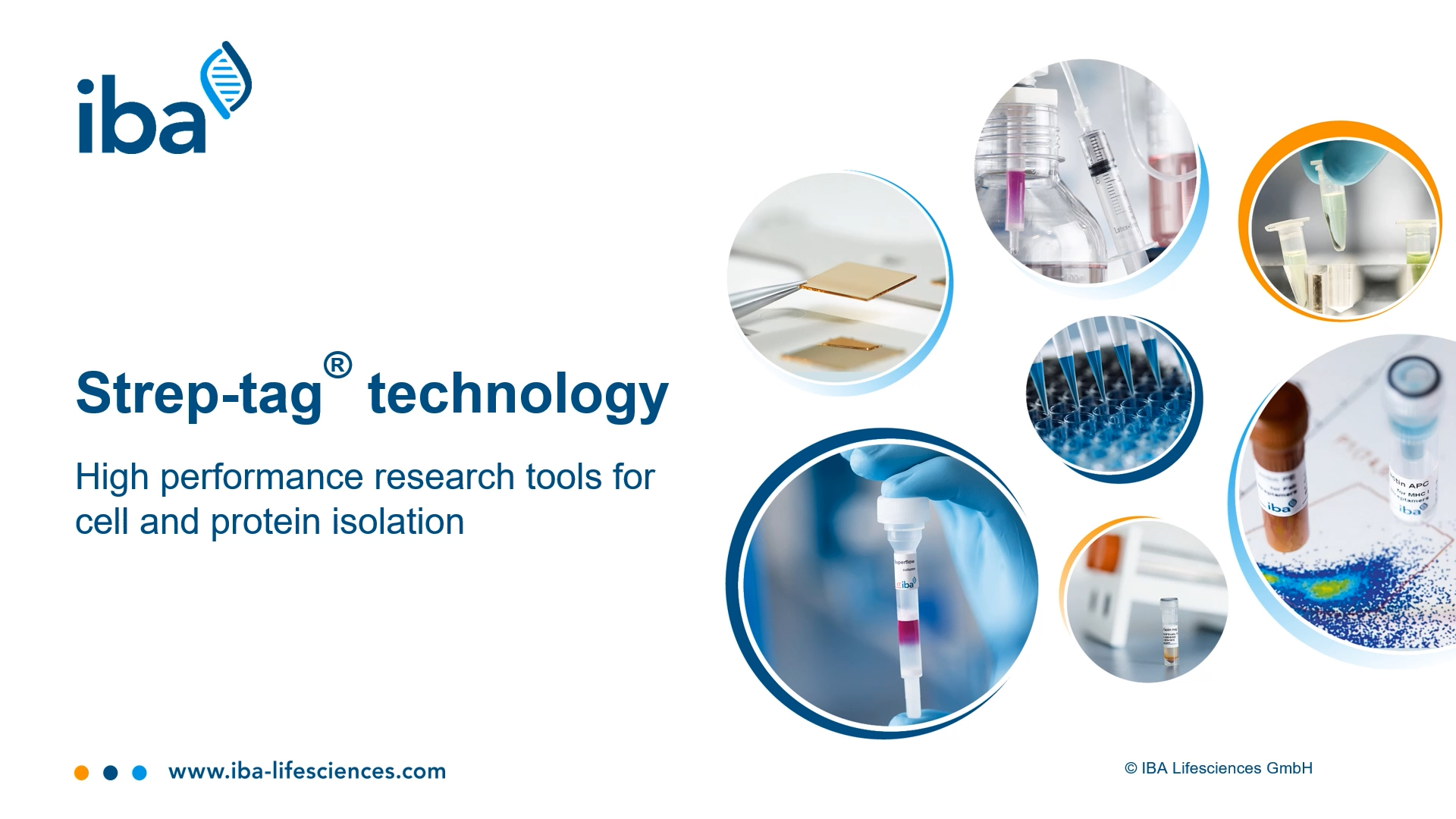 Introduction to the Strep-tag® Technology
This webinar introduces IBA Lifesciences' proprietary Strep-tag® technology, its' principle, components and benefits, and explains how it has established itself as a universal tool for isolation of proteins, cells, and exosomes, as well as for wide range of analytic applications.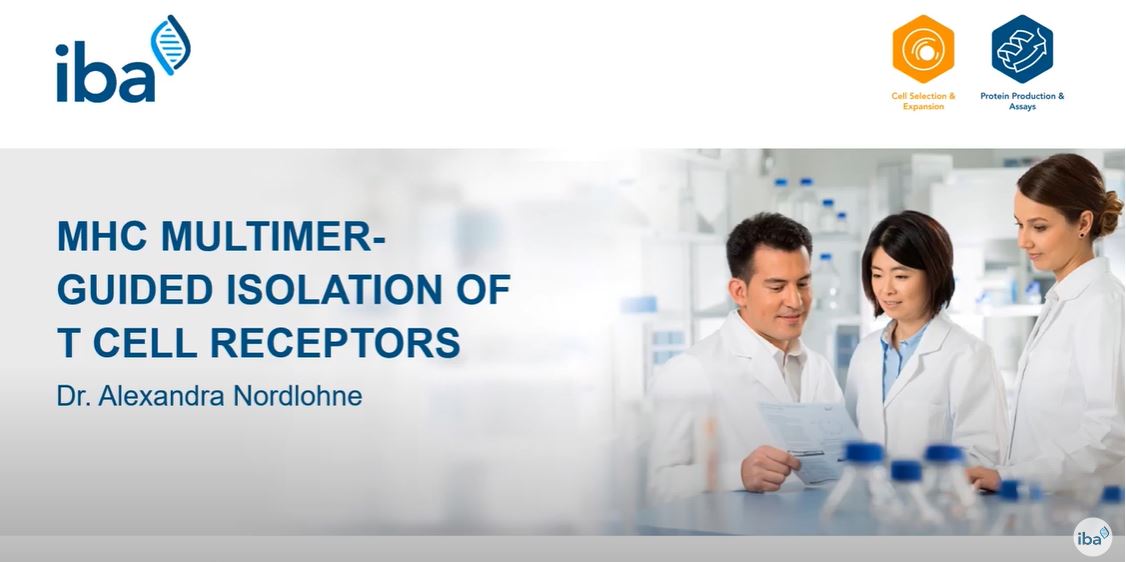 MHC Multimer-Guided Isolation of T Cell Receptors
This webinar will be about:
• MHC multimers and their role in antigen-specific T cell research
• Options for using MHC Streptamers, which are reversible multimers, in the process of isolating and analyzing T cell receptors
• Adaptations in the experimental procedure that can help to increase success rate for finding functional T cell receptors suitable for clinical treatment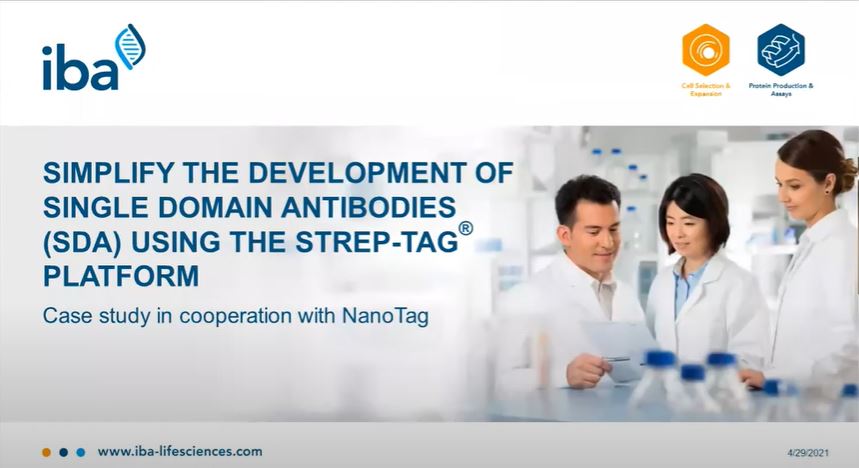 Simplify the development of single domain antibodies (SDA) using the Strep-tag® platform
The development and screening of single-domain antibodies used for target cell isolation is a complex process that comprises several steps: antigen production, B cell selection, cell staining and kinetic studies. In this webinar you will learn how these steps can be simplified using the versatile Strep-tag® technology and how the obtained antibodies were applied for the traceless cell selection from murine splenocytes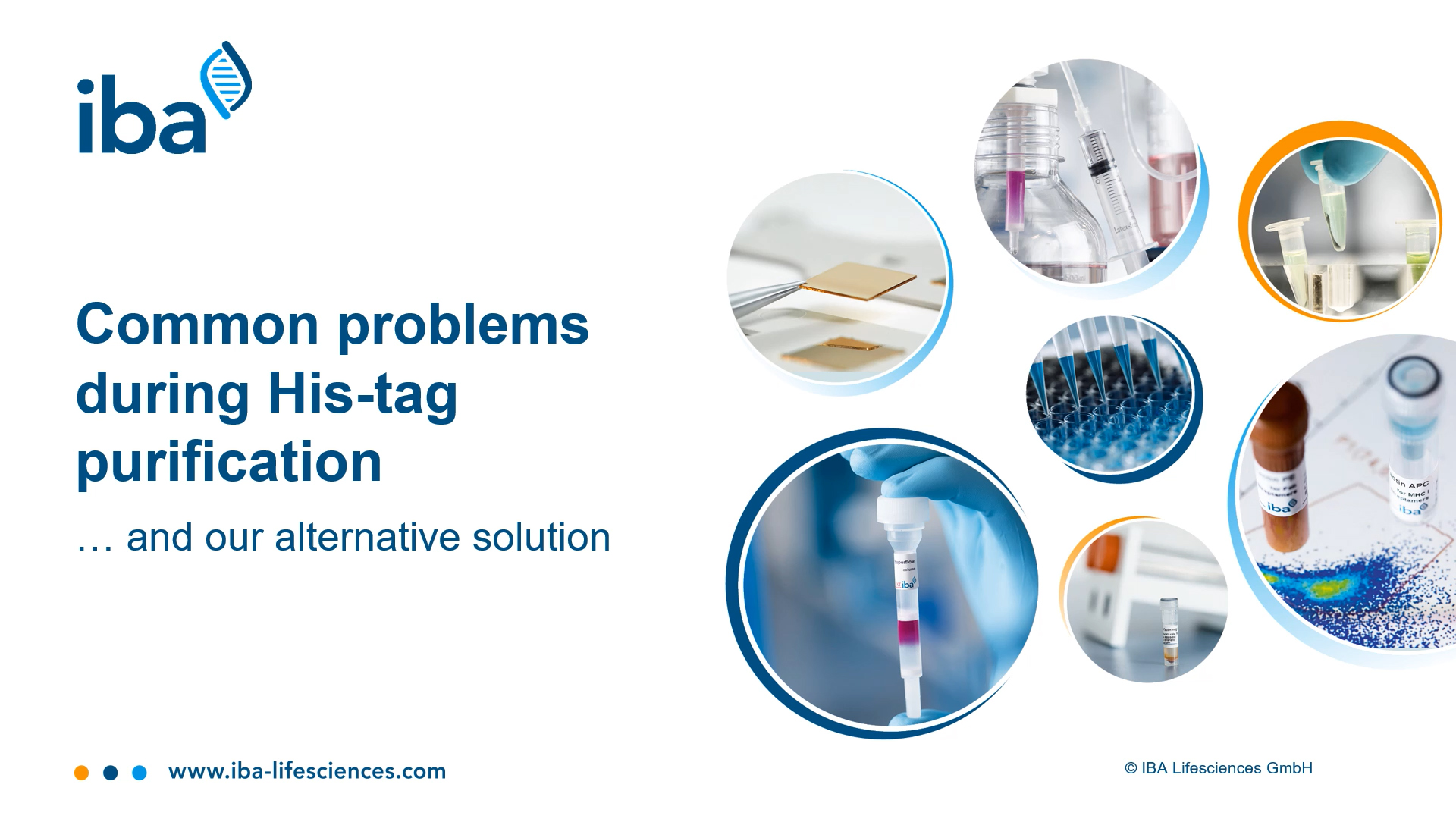 Common problems during His-tag purification
Short protein tags are common tools for protein purification via affinity chromatography. Despite its popularity, the His-tag causes a number of problems which often complicate and elongate the purification process, but still lead to an unsatisfactory result.
This webinar will give you an overview of what causes these problems and how to circumvent them by using IBA's Strep-tag® system.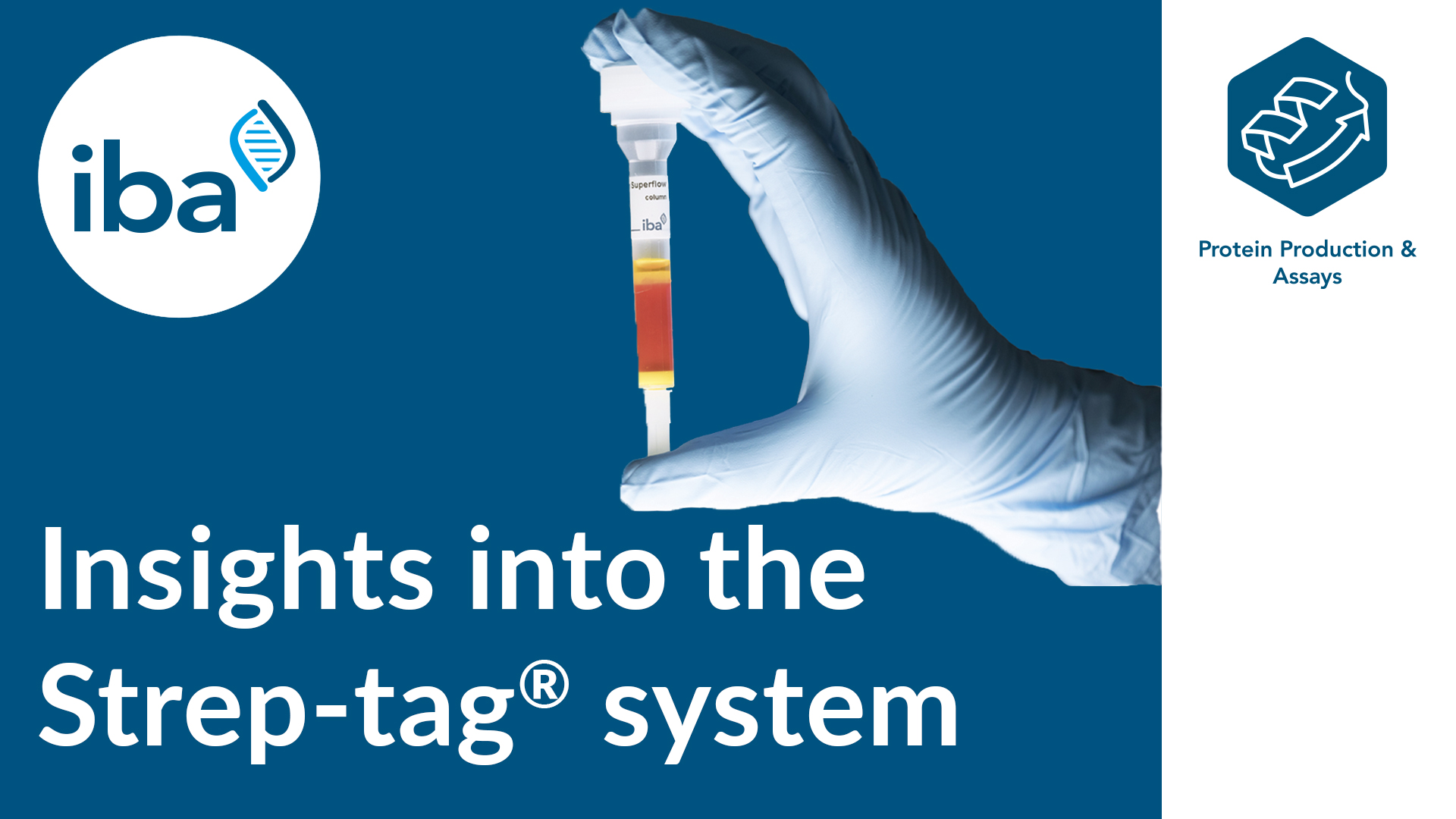 Insights into the Strep-tag® technology
The Strep-tag® system is one of the most widely used affinity systems for protein purification. Watch this webinar to get an insight into the underlying principle of the technology, which will help you to understand the simplicity of the system and all its benefits.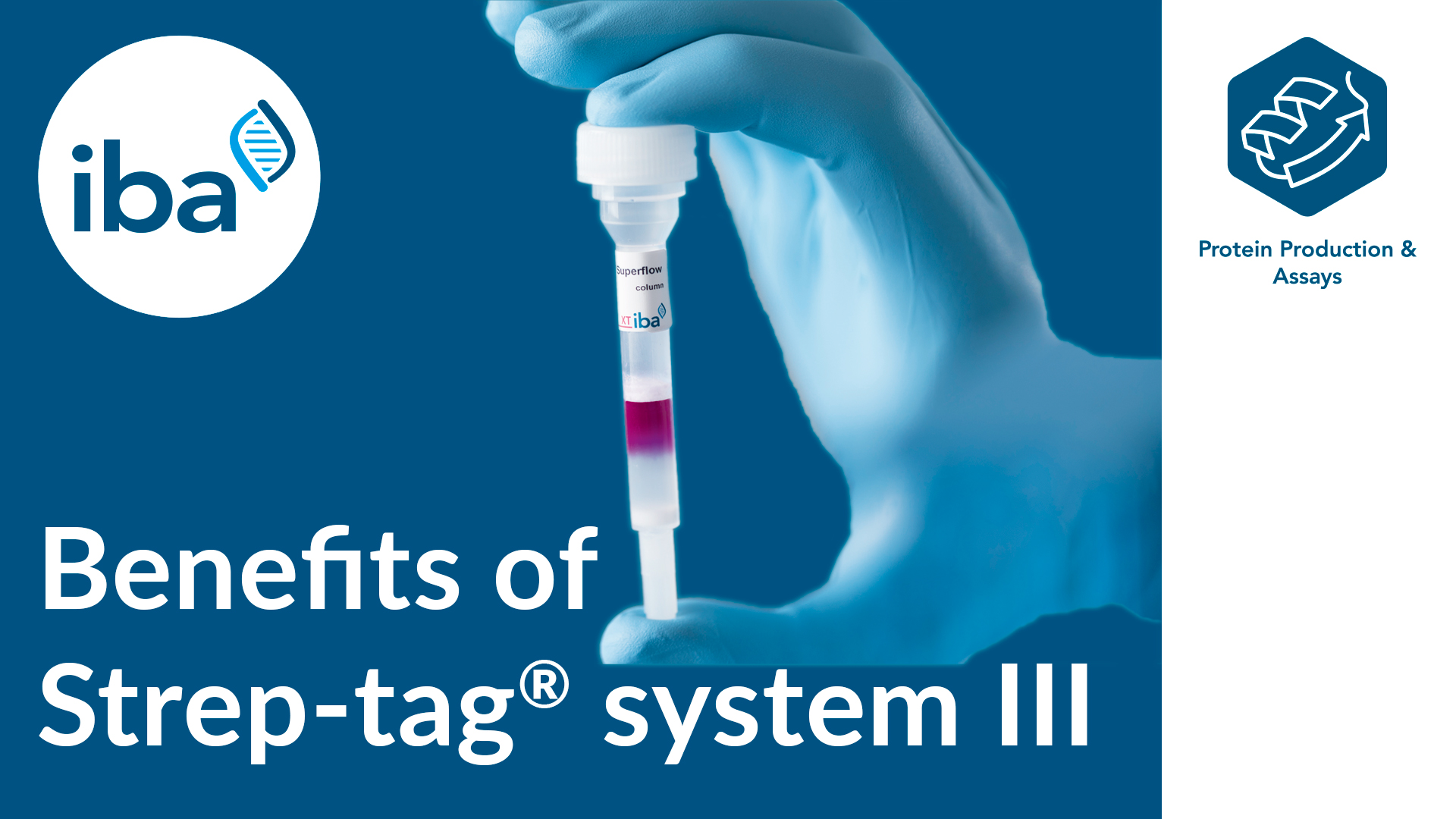 Benefits of Strep-tag® system III
The power of the Strep-tag® system goes far beyond standard protein purification. Especially the development of the high affinity Strep-Tactin®XT opens the door for new applications in the area of protein purification and assay development. This webinar will explain how one tag fits lots of different protein applications.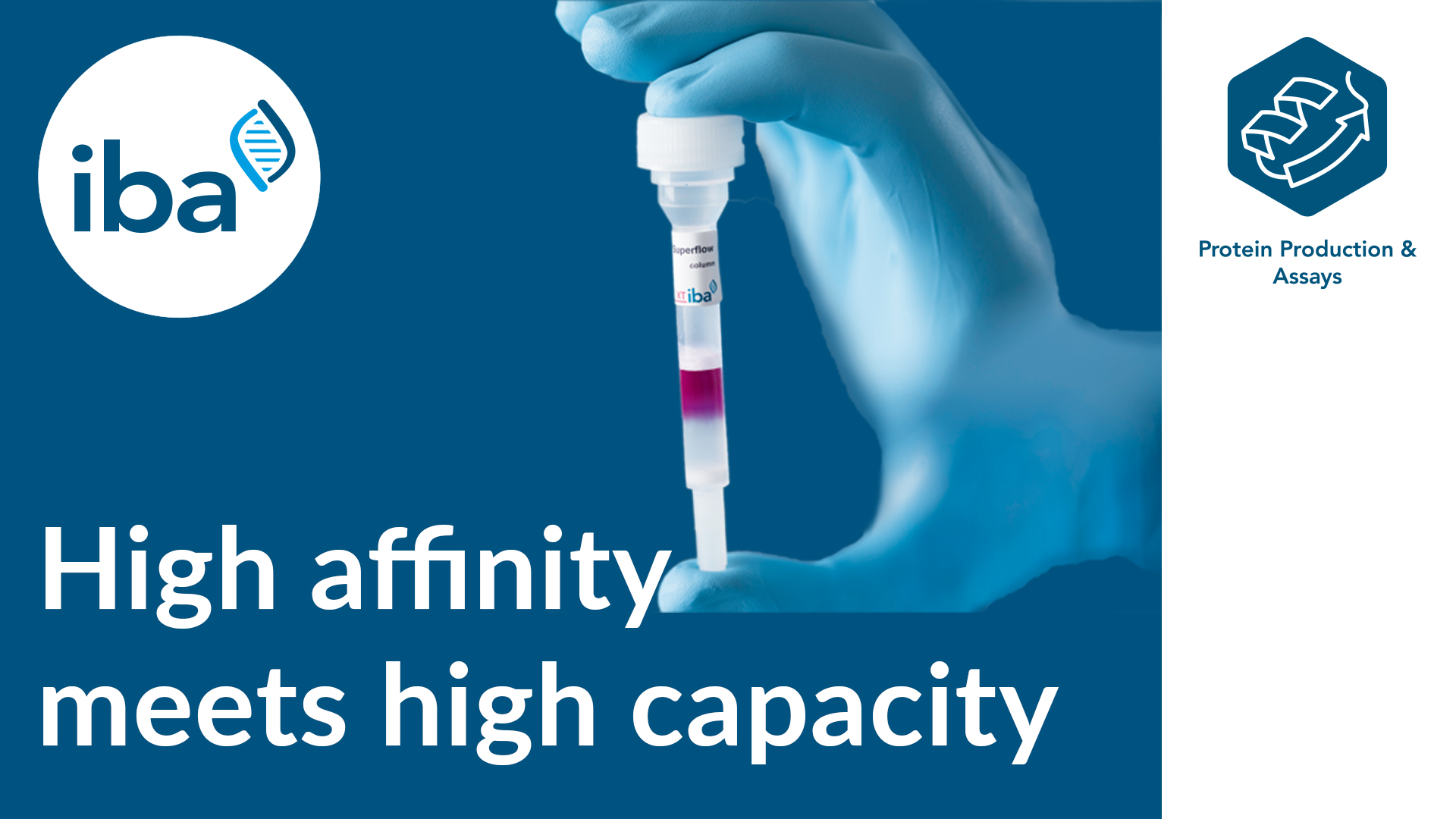 Strep-Tactin®XT high capacity
Strep-Tactin®XT high capacity is a new resin for protein purification via Strep-tag®II or Twin-Strep-tag®. Strep-Tactin®XT high capacity efficiently captures recombinant proteins in high yields and together with unbeatable price it is the favorable alternative to all other Strep-Tactin® resins.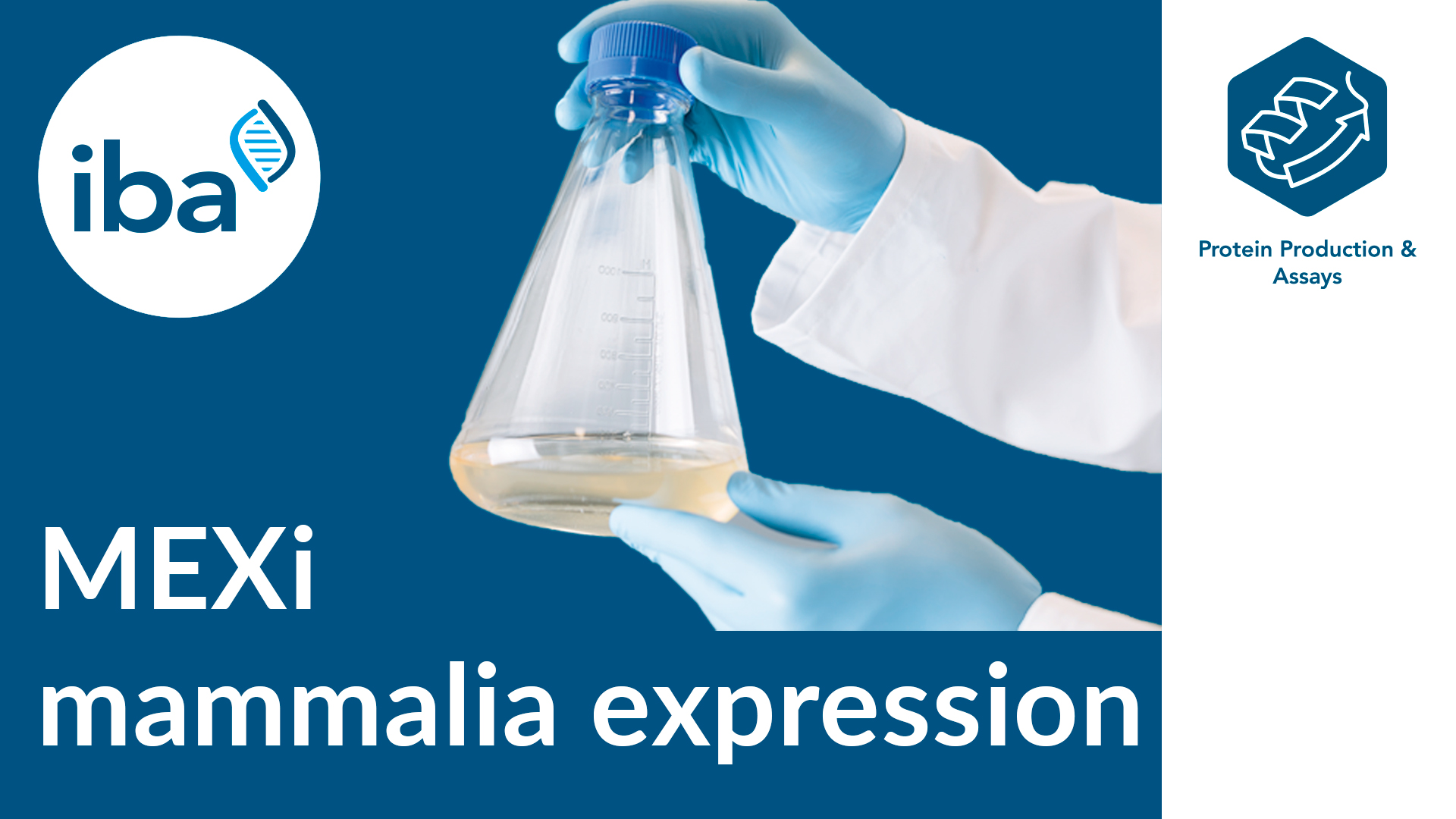 Protein Expression: MEXi system
Matching upstream and downstream processing is highly beneficial as it saves time and money in the process development and production. The MEXi cell system was developed to match mammalian protein production with outstanding Strep-tag purification. Low medium costs make this powerful, license free system as an affordable alternative to existing mammalian production systems. Take part in this webinar to get an insight into the benefits of the MEXi system and how you can implement it into your processes.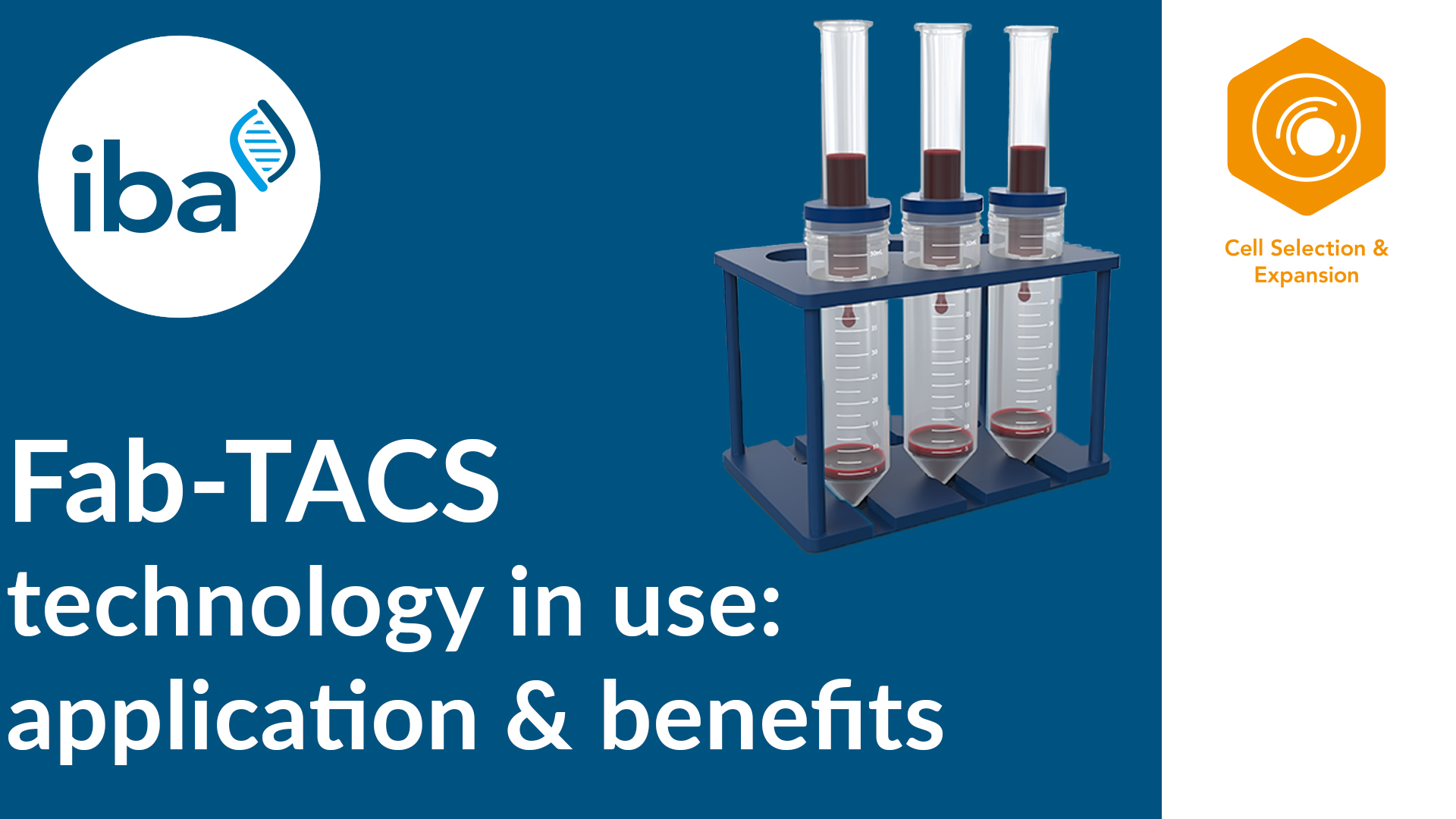 Fab-TACS® technology in use - application and benefits
Current enrichment protocols for lymphocytes show low yields and have long operation times due to the necessity of density gradients prior to the actual selection process. IBA's novel Fab-TACS® technology allows fast and easy cell purification directly from whole blood with high yields and purities. Further, it allows the complete removal of isolation reagents, resulting in minimally manipulated cells with high viability.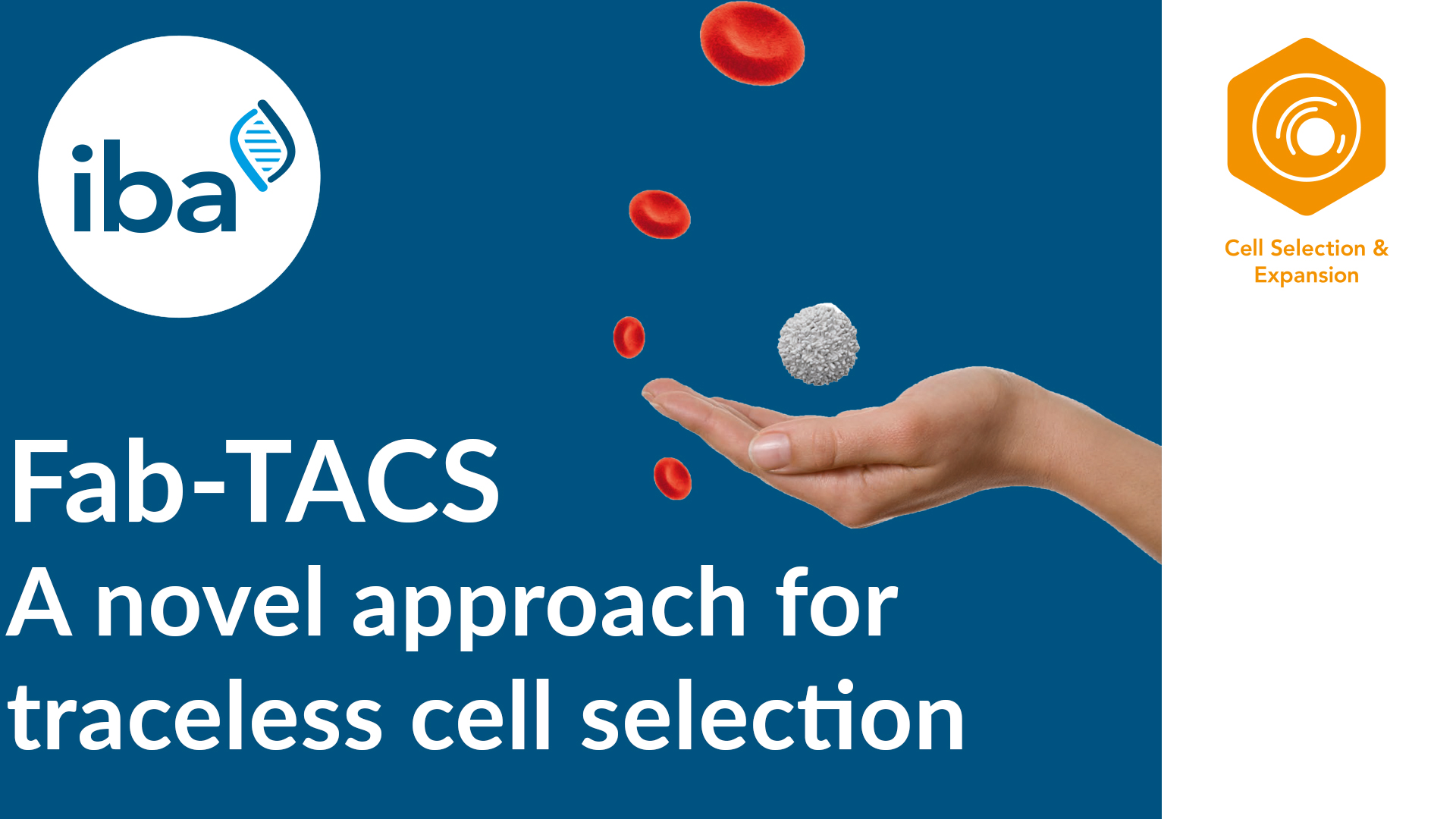 Fab-TACS® - A novel approach for traceless cell selection
When it comes to cell selection, every scientist wants to have a method to obtain target cells with high specificity, yield as well as functionality. However, this is not always easy. In this webinar, you will learn how IBA's novel Fab-TACS® technology allows you to achieve all this by adapting the Strep-tag® protein purification system into a powerful tool for cell isolation. Watch this video and get to know IBA's newly developed Fab-TACS® technology for cell selection.