Strep-tag®: The leading affinity tag in recombinant protein production
The Strep-tag® system enables cloning, expression, detection, purification, as well as further analysis of recombinant proteins. The highly specific interaction of the Strep-tag®II with Strep-Tactin® ensures efficient one-step purification of the protein of interest in unparalleled purity even from crude cell lysates.
The Strep-tag® system is compatible with a large number of protein classes, e.g., metalloproteins, membrane proteins and fragile protein complexes with multiple subunits. In addition, the mild and physiological conditions promote the yield of fully functional proteins, making the system particularly suitable for purification of enzymes as well as structural investigations, protein-protein interaction studies, ligand-receptor investigations or even separation of living cells for re-culturing processes. Simultaneously, a high tolerance towards different buffers and additives promotes its universal applicability.
Besides the advantages of the Strep-tag® technology for efficient protein purification, the near covalent affinity (pM range) of Twin-Strep-tag® to Strep-Tactin®XT expands the range of applications towards protein analysis e.g., ELISA, surface plasmon resonance (SPR) or bio-layer interferometry (BLI).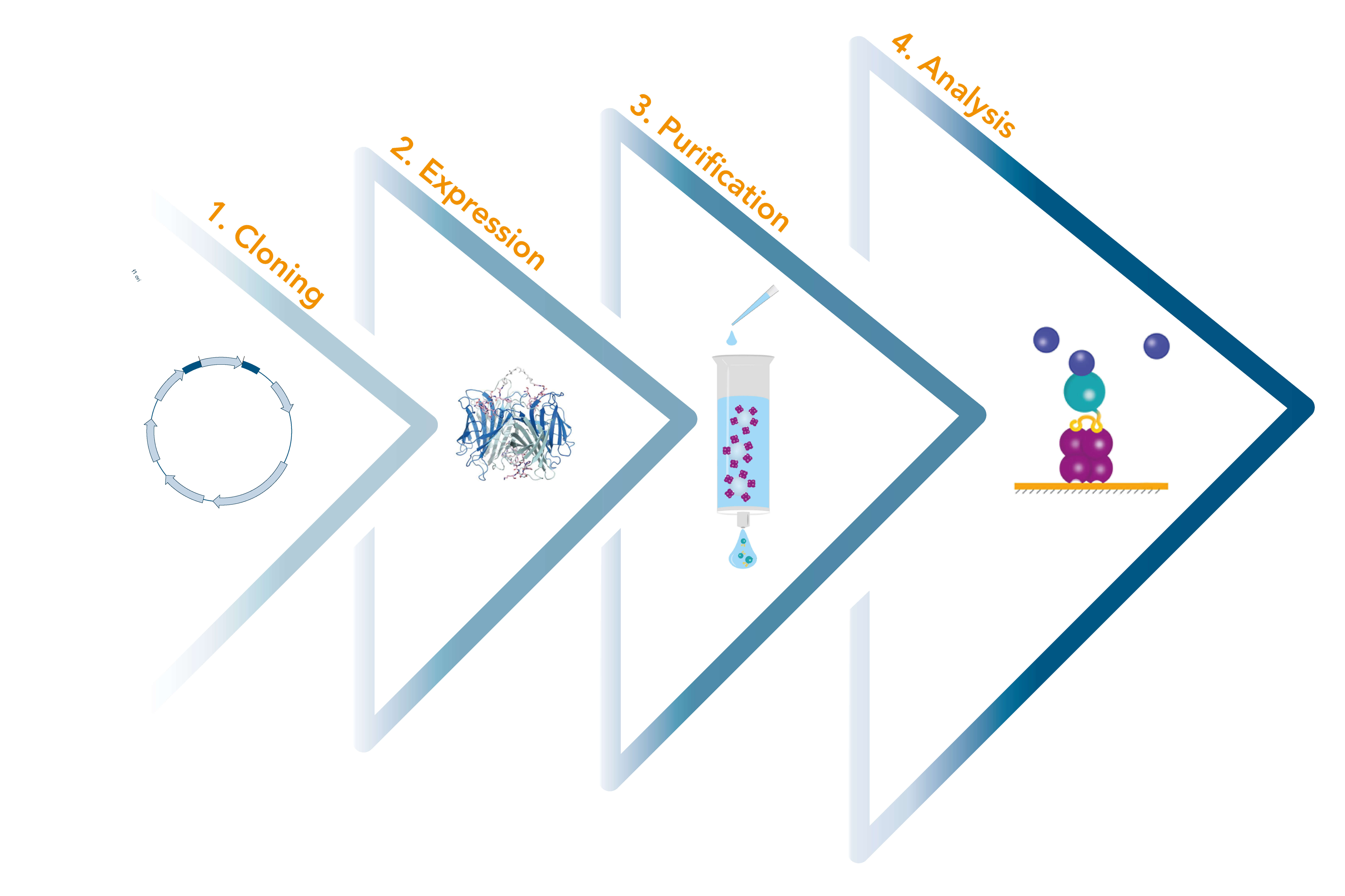 The Strep-tag® technology represents a universal toolbox that provides solutions for the entire recombinant protein production chain: from cloning, protein expression and purification to further analysis like detection, immobilization and assay applications.
One tag - Multiple applications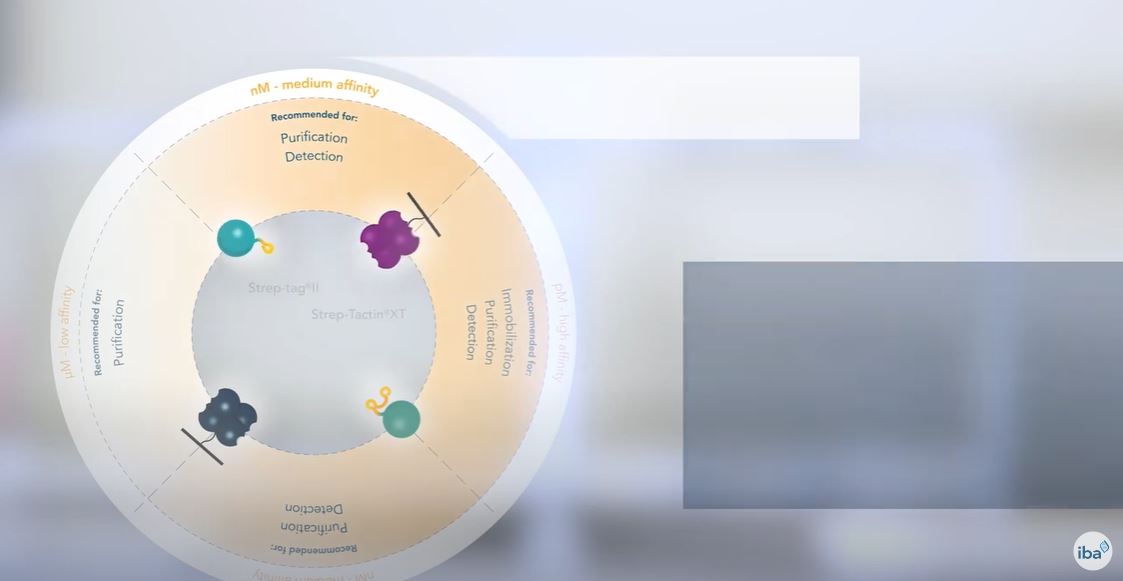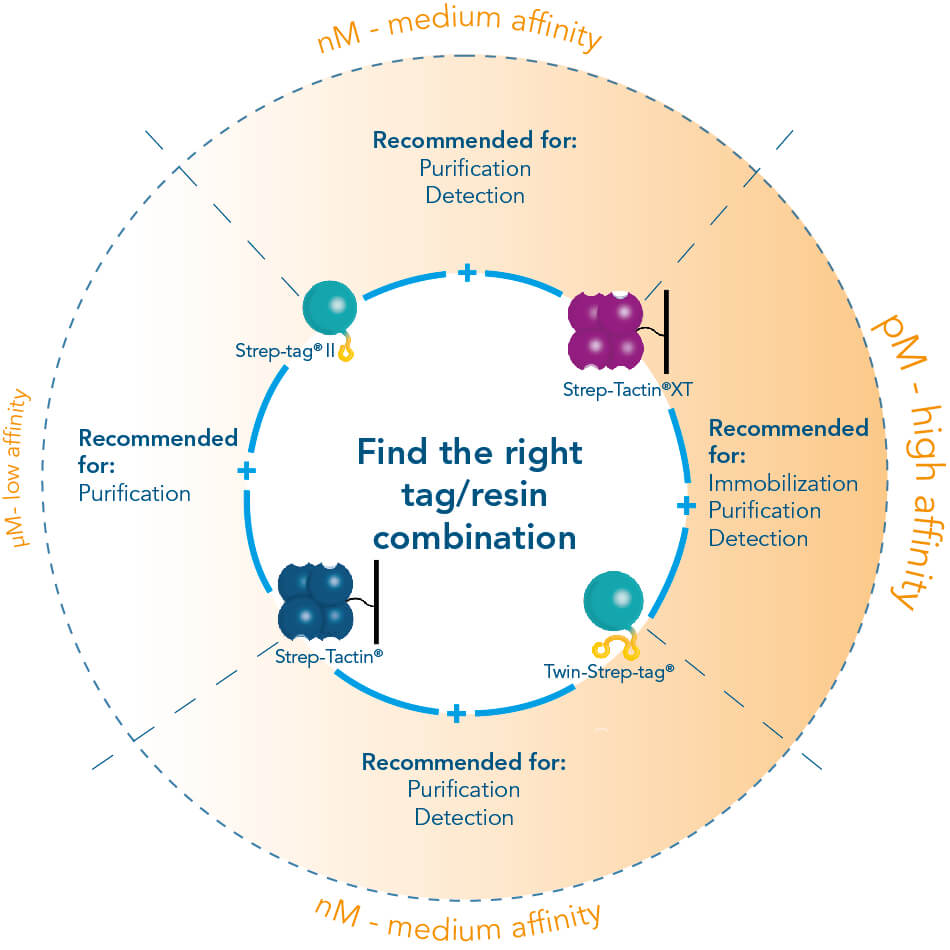 The Strep-tag® protein purification system comprises two affinity tags, the 8AA Strep-tag®II and its tandem version Twin-Strep-tag®. Both versions can bind to Strep-Tactin® and its high affinity variant Strep-Tactin®XT. Thereby the two tags differ in the affinities with which they bind to Strep-Tactin® and Strep-Tactin®XT. Depending on the application and properties of the protein of interest one can combine the different tags and Strep-Tactin® variants according to the required affinity.
It is well known for its outstanding performance with regard to purifying recombinant proteins in a simple procedure with highest purities. Its latest development - the Strep-Tactin®XT - provides a binding affinity in low pM ranges in combination with Twin-Strep-tag® still maintaining binding reversibility and mild recovery of immobilized proteins. This improvement in affinity allows protein purification at high yields and purity, even for challenging proteins and from mammalian expression systems (e.g. Expi). Read more about the benefits of Strep-tag® purification in combination with high density mammalian protein expression in our white paper.
Furthermore, it fulfills the high demands of protein interaction analysis or assays and downstream applications like SPR, thus covering all steps from purification to immobilization efficiently.
We offer specialized matrices for any demand in form of ready to use kits, FPLC columns, gravity flow or spin columns, suspensions, coated microplates, magentic beads, and more (find products in our web shop). Additionally, we provide innovative solutions for approaches surrounding batch purification, FPLC/HPLC, high-throughput screens and assay development.