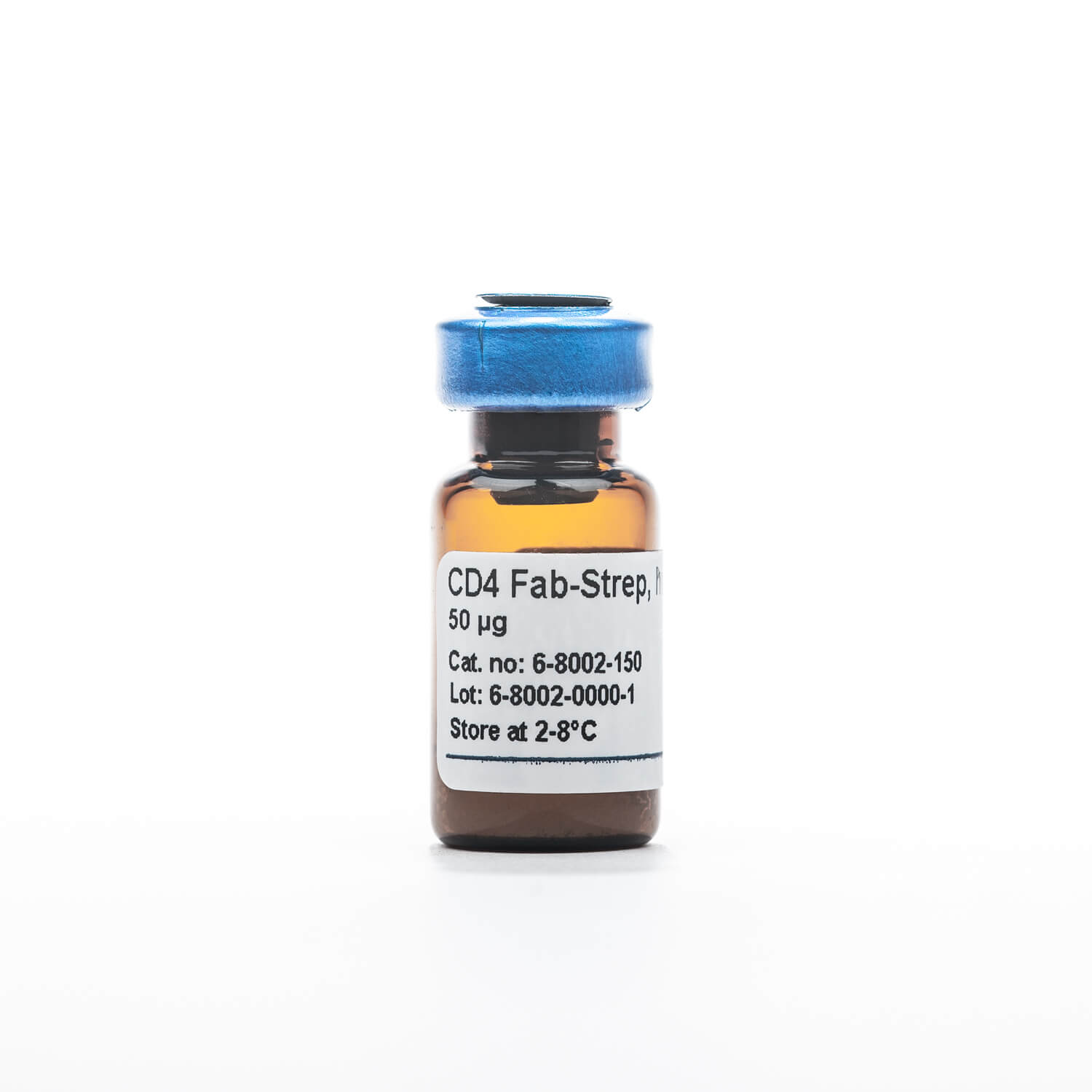 CD4 Fab-Strep, human
Low affinity Fab fragment fused to a Twin-Strep-tag® and specific for human CD4
CD4 Fab-Strep is a recombinantly expressed low affinity Fab fragment fused to a Twin-Strep-tag®. Fab-Streps were developed for Traceless Affinity Cell Selection (Fab-TACS®), which is based on our
Strep-tag® technology
. Due to their low affinity for the target, an increase in avidity is required to ensure sufficient binding to the cell surface. Combining Fab-Streps with a Strep-Tactin® backbone leads to the formation of complexes that stably bind to cells.
Depending on the Strep-Tactin® backbone, the following applications are possible:
• Fluorescent cell staining & sorting: Fab-Streps are combined with fluorophore-conjugated Strep-Tactin®.
• Magnetic cell isolation: Fab-Streps are combined with Strep-Tactin® Magnetic Microbeads.
• Affinity chromatographic cell isolation: Fab-Streps are loaded in Strep-Tactin® TACS Agarose columns.

By addition of biotin, the labeling reagents dissociate mildly and rapidly from the selected target cells in all applications, yielding minimally manipulated cells for unbiased further use.
| | |
| --- | --- |
| Endotoxin Level: | ≤ 0.1 EU/µg by LAL test |
| Form: | Lyophilized |
| Possible Application: | Fluorescent cell staining & sorting, magnetic or affinity chromatographic cell isolation |
| Purity: | ≥ 90% |
| Reconstitution: | Reconstitute in 1 ml buffer, e.g. 1x PBS containing 1 mM EDTA and 0.5% BSA, for a final concentration of 50 µg/ml. |
| Accessories: | Fab-Streps |
| | |
| --- | --- |
| Storage: | 2-8 °C; reconstituted: -80 °C |
| Stability: | 6 months after shipping |
| Shipping: | Room temperature or blue ice |